#RivetedRevealsWeek is here!
What, you ask, is Riveted Reveals Week? It's that special time of year when we show you all the shiny new covers for books coming out in just a few seasons. From June 28 – July 2 we will be showing you all the new covers for our Spring 2022 young adult books. So get your Goodreads shelf ready because you're going to want to add all of these books to your TBR!
Take a look!
---
6/28: Cover Reveals Day 1
---
They Wish They Were Us meets The Queen's Gambit in the world of competitive Scrabble when a teen girl is forced to investigate the mysterious death of her best friend a year after the fact when her Instagram comes back to life with cryptic posts and messages.
CATALYST
13 points
noun: a person or thing that precipitates an event or change
When Najwa Bakri walks into her first Scrabble competition since her best friend's death, it's with the intention to heal and move on with her life. Perhaps it wasn't the best idea to choose the very same competition where said best friend, Trina Low, died. It might be even though Najwa's trying to change, she's not ready to give up Trina just yet.
But the same can't be said for all the other competitors. With Trina, the Scrabble Queen herself, gone, the throne is empty, and her friends are eager to be the next reigning champion. All's fair in love and Scrabble, but all bets are off when Trina's formerly inactive Instagram starts posting again, with cryptic messages suggesting that maybe Trina's death wasn't as straightforward as everyone thought. And maybe someone at the competition had something to do with it.
As secrets are revealed and the true colors of her friends are shown, it's up to Najwa to find out who's behind these mysterious posts—not just to save Trina's memory, but to save herself.
This fun, irreverent summer romp is Netflix's Never Have I Ever meets What If It's Us about a high school senior determined to get over his unrequited feelings for his best friend by getting under someone else.
Enrique "Quique" Luna has one goal this summer—get over his crush on Saleem Kanazi by pursuing his other romantic prospects. Never mind that he's only out to his best friend, Fabiola. Never mind that he has absolutely zero game. And definitely forget the fact that good and kind and, not to mention, beautiful Saleem is leaving LA for the summer to meet a girl his parents are trying to set him up with.
Luckily, Quique's prospects are each intriguing in their own ways. There's stoner-jock Tyler Montana, who might be just as interested in Fabiola as he is in Quique; straitlaced senior class president, Ziggy Jackson; and Manny Zuniga, who keeps looking at Quique like he's carne asada fresh off the grill. With all these choices, Quique is sure to forget about Saleem in no time.
But as the summer heats up and his deep-seated fears and anxieties boil over, Quique soon realizes that getting over one guy by getting under a bunch of others may not have been the best laid plan and living his truth can come at a high cost.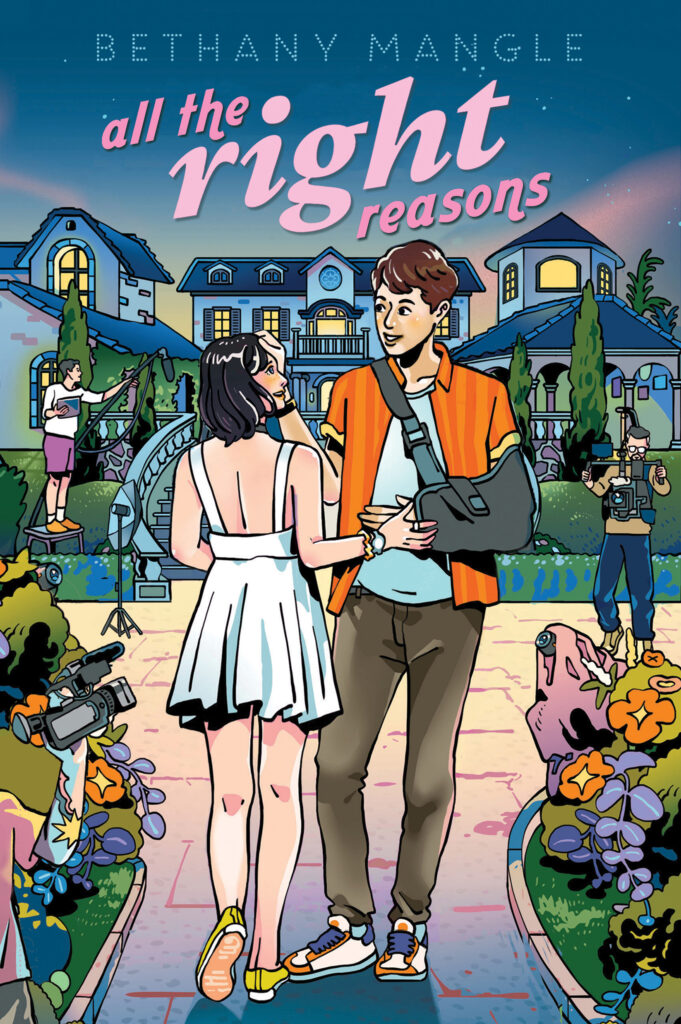 The Bachelor meets Gilmore Girls in this laugh-out-loud young adult romance about a girl who joins her mother on a reality dating show for single parents—only to fall for a contestant's son.
Cara Hawn's life fell apart after her father cheated on her mother and got remarried to a woman Cara can't stand. When Cara accidentally posts a rant about her father online, it goes viral—and catches the attention of the TV producers behind a new reality dating show for single parent families.
The next thing Cara and her mother know, they've been cast as leads on the show and are whisked away to sunny Key West where they're asked to narrow a field of suitors and their kids down to one winning pair. All of this is outside of Cara's comfort zone, from the meddling producers to the camera-hungry contestants, especially as Cara and her mother begin to clash on which suitors are worth keeping around. And then comes Connor.
As the son of a contestant, Connor is decidedly off-limits. Except that he doesn't fit in with the cutthroat atmosphere in all the same ways as Cara, and she can't get him out of her head. Now Cara must juggle her growing feelings while dodging the cameras and helping her mom pick a bachelor they both love, or else risk fracturing their family even more for the sake of ratings. Maybe there's a reason most people don't date on TV.
---
6/29: Cover Reveals Day 2
---
After being dumped so his boyfriend can pursue more "serious" guys, a teen boy decides to prove he can be serious, too, by running for senior class president in this joyful romp from the author of The Sky Blues.
High school junior Blaine Bowers has it all—the perfect boyfriend, a pretty sweet gig as a muralist for local Windy City businesses, a loving family, and awesome, talented friends. And he is absolutely, 100% positive that aforementioned perfect boyfriend—​senior student council president and Mr. Popular of Wicker West High School, Joey—is going to invite Blaine to spend spring break with his family in beautiful, sunny Cabo San Lucas.
Except Joey breaks up with him instead. In public. On their one-year anniversary.
Because, according to Joey, Blaine is too goofy, too flighty, too…unserious. And if Joey wants to go far in life, he needs to start dating more serious guys. Guys like Zach Chesterton.
Determined to prove that Blaine can be what Joey wants, Blaine decides to enter the running to become his successor (and beat out Joey's new boyfriend, Zach) as senior student council president.
But is he willing to sacrifice everything he loves about himself to do it?
Wrecked by Heather Henson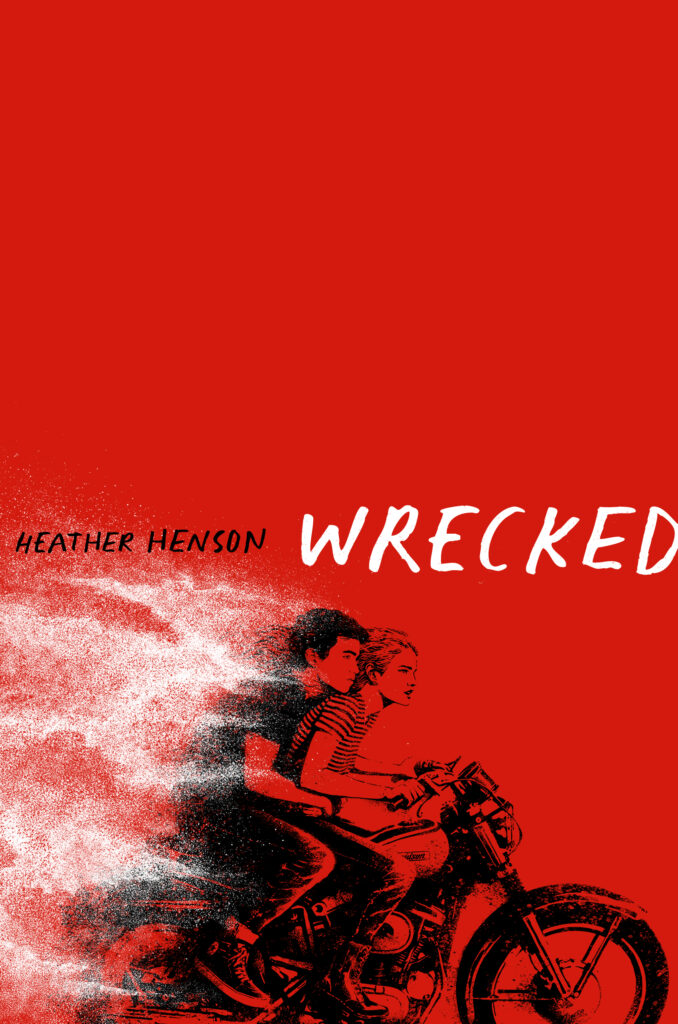 Looking for Alaska meets Breaking Bad in this piercing novel about three teens, caught in the middle of the opioid crisis in rural Appalachia, whose world literally blows up around them.
For as long as Miri can remember it's been her and her dad, Poe, in Paradise—what Poe calls their home, hidden away from prying eyes in rural Kentucky. It's not like Miri doesn't know what her dad does or why people call him "the Wizard." It's not like she doesn't know why Clay, her one friend and Poe's right-hand man, patrols the grounds with a machine gun. It's nothing new, but lately Paradise has started to feel more like a prison.
Enter Fen. The new kid in town could prove to be exactly the distraction Miri needs…but nothing is ever simple. Poe doesn't take kindly to strangers. Fen's DEA agent father is a little too interested in Miri's family. And Clay isn't satisfied with being just friends with Miri anymore. But what's past is prologue—it's what will follow that will wreck everything.
Shining a klieg light on the opioid crisis coursing through this country, Wrecked will have readers on the edge of their seat right up until the explosive ending.
---
6/30: Cover Reveals Day 3
---
Turning by Joy L. Smith
In this raw, searingly honest debut young adult novel, a former aspiring ballerina must confront her past in order to move forward from a devastating fall that leaves her without the use of her legs.
Genie used to fouetté across the stage. Now the only thing she's turning are the wheels to her wheelchair. Genie was the star pupil at her exclusive New York dance school, with a bright future and endless possibilities before her. Now that the future she's spent years building toward has been snatched away, she can't stand to be reminded of it—even if it means isolating herself from her best friends and her mother. The only wish this Genie has is to be left alone.
But then she meets Kyle, who also has a "used to be." Kyle used to tumble and flip on a gymnastics mat, but a traumatic brain injury has sent him to the same physical therapist that Genie sees. With Kyle's support, along with her best friend's insistence that Genie's time at the barre isn't over yet, Genie starts to see a new path—one where she doesn't have to be alone and she finally has the strength to heal from the past.
But healing also means confronting. Confronting the booze her mother, a recovering alcoholic, has been hiding under the kitchen sink; the ex-boyfriend who was there the night of the fall and won't leave her alone; and Genie's biggest, most terrifying secret: the fact that the accident may not have been so accidental after all.
Carry On meets Arthurian legend in this funny, subversive young adult fantasy about what happens after the chosen one wins the kingdom and has to get married to keep it…and to stay alive.
Arek hadn't thought much about what would happen after he completed the prophecy that said he was destined to save the Kingdom of Ere from its evil ruler. So now that he's finally managed to (somewhat clumsily) behead the evil king (turns out magical swords yanked from bogs don't come pre-sharpened), he and his rag-tag group of quest companions are at a bit of a loss for what to do next.
As a temporary safeguard, Arek's best friend and mage, Matt, convinces him to assume the throne until the true heir can be rescued from her tower. Except that she's dead. Now Arek is stuck as king, a role that comes with a magical catch: choose a spouse by your eighteenth birthday, or wither away into nothing.
With his eighteenth birthday only three months away, and only Matt in on the secret, Arek embarks on a desperate bid to find a spouse to save his life—starting with his quest companions. But his attempts at wooing his friends go painfully and hilariously wrong…until he discovers that love might have been in front of him all along.
A chauffer's daughter finds herself in the middle of a love triangle with the sons of her boss's wealthy next-door neighbors in this delightfully romantic story from the author of Alex, Approximately, Jenn Bennett.
Love—and Fen Sarafian—do not care about your summer plans.
Eighteen-year-old chauffeur's daughter Jane Marlow grew up among the domestic staff of a wealthy LA rock producer, within reach of bands she idolizes, but never a VIP. Every summer, Jane and her father head to the Sierras to work at the producer's luxury lodge at Lake Condor—a resort town and the site of a major musical festival.
The legendary family who runs the festival are the Sarafians, and Jane's had a longtime crush on their oldest son, Eddie—doltish but sweet. So when a long-distance romance finally sparks between them, she doesn't hesitate to cross class lines.
But Jane's feelings about Eddie are thrown into question after she returns to the lake and reconnects with his alluringly intense brother, the dark horse of her placid summer plans. A fellow lover of music—and hater of the game—Fen Sarafian has been ousted from the family and is slumming it at a vinyl record shop. He burns for Jane like a house on fire and will do anything to sabotage his older brother, even if it means taking a wrecking ball to a multi-million-dollar music festival. Or Jane's heart.
---
7/1: Cover Reveals Day 4
---
The Queen's Gambit meets The Hunger Games in this harrowing young adult thriller about a teen girl whose abusive father teaches her the finer points of chess and hunting for his own sinister ends.
Didi tries her best to be a good girl, but it's hard to keep track of her father's rules. When she wins a chess tournament, he's angry she didn't win with a better move and makes her run laps around the house. When she runs laps the next day, she has to keep running until she's faster than the day before. When she's skilled enough to outshoot him with both a gun and bow and arrow, he grows furious when she won't then shoot a baby rabbit who crosses their path. And Didi can't do anything to escape being threatened with the Hurt Stick when she misbehaves.
He's all she has, he reminds her. They have to be prepared. They have to be prepared to fight the rest of the world, when the world comes to an end. He's grooming her, to keep her safe. He loves Didi. He does—he says so! And so Didi runs harder; annihilates her opponents in chess; takes down a deer at a dead run. He's grooming her, after all, to be the best…he says so.
In this gorgeous, queer standalone fantasy, a young musician sets out to expose her rival for illegal use of magic only to discover the deception goes deeper than she could have imagined—perfect for fans of An Enchantment of Ravens!
Music runs in Sofi's blood.
Her father is a Musik, one of only five musicians in the country licensed to compose and perform original songs. In the kingdom of Aell, where winter is endless and magic is accessible to all, there are strict anti-magic laws ensuring music remains the last untouched art.
Sofi has spent her entire life training to inherit her father's title. But on the day of the auditions, she is presented with unexpected competition in the form of Lara, a girl who has never before played the lute. Yet somehow, to Sofi's horror, Lara puts on a performance that thoroughly enchants the judges.
Almost like magic.
The same day Lara wins the title of Musik, Sofi's father dies, and a grieving Sofi sets out to prove Lara is using illegal magic in her performances. But the more time she spends with Lara, the more Sofi begins to doubt everything she knows about her family, her music, and the girl she thought was her enemy.
As Sofi works to reclaim her rightful place as a Musik, she is forced to face the dark secrets of her past and the magic she was trained to avoid—all while trying not to fall for the girl who stole her future.
Howl by Shaun David Hutchinson
From critically acclaimed Shaun David Hutchinson comes a gritty and raw portrayal of the oftentimes traumatic experience of growing up.
Virgil Knox was attacked by a monster.
Of course, no one in Merritt believes him. Not even after he stumbled into the busy town center, bleeding, battered, and bruised, for everyone to see. He'd been drinking, they said. He was hanging out where he wasn't supposed to, they said. It must've been a bear, or a badger, or a gator—definitely no monster.
Virgil doesn't think it was any of those things. He's positive it was a monster. But being the new kid in a town where everybody knows everybody is hard enough as it is without being the kid who's afraid of monsters, so he tries to keep a low profile.
Except he knows the monster is still out there. And if he isn't careful, Virgil's afraid it'll come back to finish him off, or worse—that he'll become one himself.
---
7/2: Cover Reveals Day 5
---
Black Mirror meets Marie Lu's Warcross in Nami's continuing adventures as she fights to free her friends in this high-stakes sequel to The Infinity Courts by award-winning author Akemi Dawn Bowman.
It's been ten months since Nami narrowly escaped the Four Courts and Ophelia's wrath. Ten months since she was betrayed by someone she once considered a friend. Someone she poured her heart out to. And now her family here in the afterlife are gone, captured, and Nami is utterly alone.
On the run, only steps ahead of the AI forces pursuing her, and desperate to free her friends, Nami must take the allies she can find, even if she doesn't fully trust them. And as she tests the limits of her own power, she must also reckon with the responsibility that entails.
Stakes are high as Nami navigates old enemies, unexpected allies, and an ever-changing landscape filled with dangers and twists at every turn. Along the way, she'll learn powerful truths about who she can trust and the sacrifices that must be made in order to fight for a better, freer world for all.
Perfect for fans of Deb Caletti, this poignant coming-of-age novel in verse follows a teen girl who connects with the women of her maternal line through their journals and comes to better understand her fraught relationship with her mother.
Mimi's relationship with her mother has always been difficult. But lately, her mother has been acting more withdrawn than usual, leaving Mimi to navigate the tricky world of turning sixteen alone. What she doesn't expect is her mother's advice to start journaling—just like all the woman in her family before her. It's a tradition, she says. Expected.
But Mimi takes to poetry and with it, a way to write down the realities of growing into a woman, the pains of online bullying, and the new experiences of having a boyfriend. And all in the shadows of a sexual assault case that is everywhere on the news—a case that seems to specifically rattle her mother.
Trying to understand her place in the world, Mimi dives into the uncovered journals of her grandmother, great-grandmother, and beyond. She immerses herself in each of their lives, learns of their painful stories and their beautiful sprits. And as Mimi grows closer to each of these women, she starts to forge her own path. But it isn't until her mother's story comes to light that Mimi learns about the unyielding bonds of family and the relentless spirit of womanhood.
Dry meets Hatchet in this thrilling tale of survival following a teen girl who must lead her friends across country to the safety of her estranged father's survivalist compound after a mass power failure leaves the country in chaos.
When seventeen-year-old Zara escaped her father's backwoods survivalist compound five years ago, she traded crossbows and skinning hides for electricity and video games…and tried to forget the tragedy that drove her away.
Until a malware attack on the United States electrical grids cuts off the entire country's power.
In the wake of the disaster and the chaos that ensues, Zara is forced to call upon skills she thought she'd never use again—and her best bet to survive is to go back to the home she left behind. Drawing upon a resilience she didn't know she had, Zara leads a growing group of friends on an epic journey across a crumbling country back to her father's compound, where their only hope for salvation lies.
But with every step she takes, Zara wonders if she truly has what it takes to face her father and the secrets of her past, or if she'd be better off hiding in the dark.
---
More Reveals!
---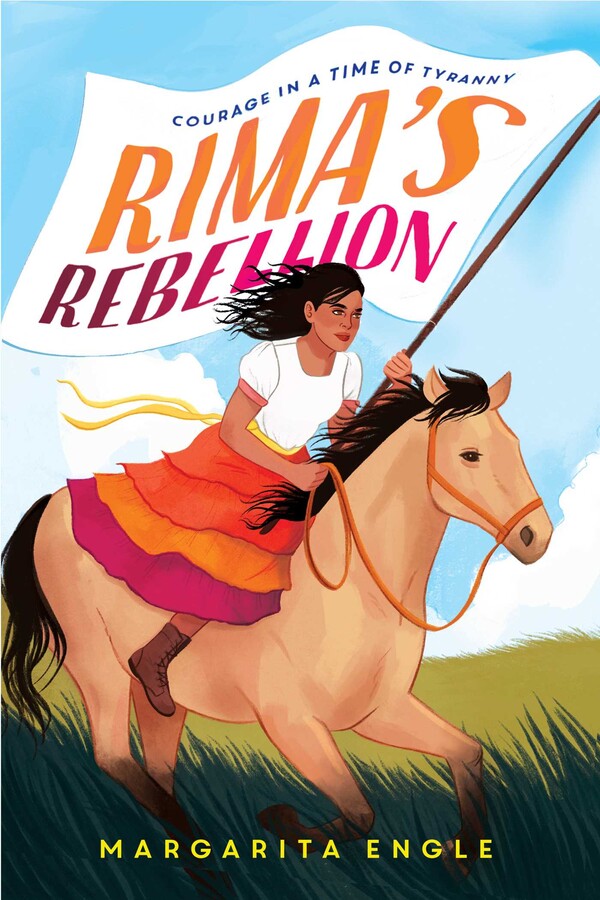 An inspiring coming-of-age story from award-winning author Margarita Engle about a girl falling in love for the first time while finding the courage to protest for women's right to vote in 1920s Cuba.
Rima loves to ride horses alongside her abuela and Las Mambisas, the fierce women veterans who fought during Cuba's wars for independence. Feminists from many backgrounds have gathered in voting clubs to demand suffrage and equality for women, but not everybody wants equality for all—especially not for someone like Rima. In 1920s Cuba, illegitimate children like her are bullied and shunned.
Rima dreams of a day when she is free from fear and shame, the way she feels when she's riding with Las Mambisas. As she seeks her way, Rima forges unexpected friendships with others who long for freedom, especially a handsome young artist named Maceo. Through turbulent times, hope soars, and with it…love.

In this dark academia young adult thriller for fans of The Female of the Species and People Like Us, a teen girl's search for answers about her mother's mysterious death leads to a powerful secret society at her new boarding school—and a dangerous game of revenge that will leave her forever changed.
Six years ago, Calliope Bolan's mother drove the family van into a lake with her three daughters inside. The girls escaped, but their mother drowned, and the truth behind the "accident" remains a mystery Calliope is determined to solve. Now sixteen, she transfers to Tipton Academy, the same elite boarding school her mother once attended. Tipton promises a peek into the past and a host of new opportunities—including a coveted invitation to join Haunt and Rail, an exclusive secret society that looms over campus like a legend.
Calliope accepts, stepping into the exhilarating world of the "ghosts," a society of revolutionaries fighting for social justice. But when Haunt and Rail commits to exposing a dangerous person on campus, it becomes clear that some ghosts define justice differently than others.
As the society's tactics escalate, Calliope uncovers a possible link between Haunt and Rail and her mother's deadly crash. Now, she must question what lengths the society might go to in order to see a victory—and if the secret behind her mother's death could be buried here at Tipton.
Prepare yourself for something unlike anything: A smash-up of art and text for teens that viscerally captures what it is to be Black. In America. Right Now. Written by #1 New York Times bestselling and award-winning author Jason Reynolds.
Jason Reynolds and his best bud, Jason Griffin had a mind-meld. And they decided to tackle it, in one fell swoop, in about ten sentences, and 300 pages of art, this piece, this contemplation-manifesto-fierce-vulnerable-gorgeous-terrifying-WhatIsWrongWithHumans-hope-filled-hopeful-searing-Eye-Poppingly-Illustrated-tender-heartbreaking-how-The-HECK-did-They-Come-UP-with-This project about oxygen. And all of the symbolism attached to that word, especially NOW.
And so for anyone who didn't really know what it means to not be able to breathe, REALLY breathe, for generations, now you know. And those who already do, you'll be nodding yep yep, that is exactly how it is.
In the heart-pounding conclusion to the Wings of Ebony duology, which #1 New York Times bestselling author Nicole Yoon calls "bold, inventive, big-hearted and deeply perceptive," Rue makes her final stand to reclaim her people's stolen magic.
Rue has no memory of how she ended up locked in a basement prison without her magic or her allies. But she's a girl from the East Row. And girls from the East Row don't give up. Girls from the East Row pick themselves back up when they fall. Girls from the East Row break themselves out.
But reuniting with her friends is only half the battle. When she finds them again, Rue makes a vow: she will find a way to return the magic that the Chancellor has stolen from her father's people. Yet even on Yiyo Peak, Rue is a misfit—with half a foot back in Houston and half a heart that is human as well as god, she's not sure she's the right person to lead the fight to reclaim a glorious past.
When a betrayal sends her into a tailspin, Rue must decide who to trust and how to be the leader that her people deserve…because if she doesn't, it isn't just Yiyo that will be destroyed—it will be Rue herself.
She Gets the Girl by Rachael Lippincott and Alyson Derrick
She's All That meets What If It's Us in this swoon-worthy hate-to-love YA romantic comedy from #1 New York Times bestselling coauthor of Five Feet Apart Rachael Lippincott and debut writer Alyson Derrick.
Alex Blackwood is a little bit headstrong, with a dash of chaos and a whole lot of flirt. She knows how to get the girl. Keeping her on the other hand…not so much. Molly Parker has everything in her life totally in control, except for her complete awkwardness with just about anyone besides her mom. She knows she's in love with the impossibly cool Cora Myers. She just…hasn't actually talked to her yet.
Alex and Molly don't belong on the same planet, let alone the same college campus. But when Alex, fresh off a bad (but hopefully not permanent) breakup, discovers Molly's hidden crush as their paths cross the night before classes start, they realize they might have a common interest after all. Because maybe if Alex volunteers to help Molly learn how to get her dream girl to fall for her, she can prove to her ex that she's not a selfish flirt. That she's ready for an actual commitment. And while Alex is the last person Molly would ever think she could trust, she can't deny Alex knows what she's doing with girls, unlike her.
As the two embark on their five-step plans to get their girls to fall for them, though, they both begin to wonder if maybe they're the ones falling…for each other.