The final book in Cassandra Clare's Dark Artifices trilogy is headed your way this December. We know you probably have a lot of questions about the newest Shadowhunters book–we certainly do!–so we scoured the Internet for all the information there is to know so far. We will keep this post updated as more updates are released, so check back to make sure you've got the most up-to-date scoop on what there is to know about Queen of Air and Darkness!
Before this book hits shelves on December 4th, we recommend catching up with the first two books in the series:
Then preorder your copy of Queen of Air and Darkness and submit your receipt to get a deluxe fairytale booklet!
Here's what we know about this upcoming Shadowhunters book so far: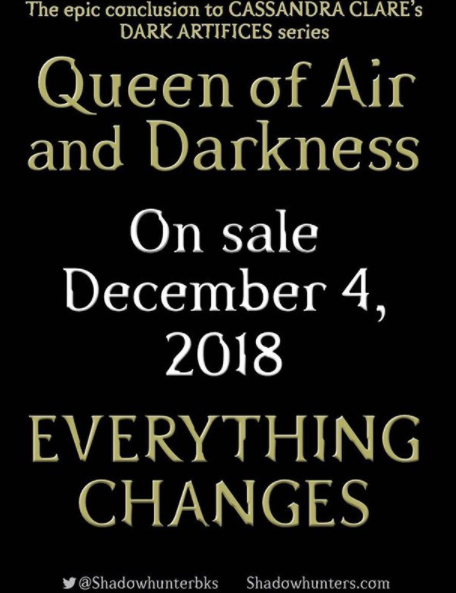 From what we hear, this book will change everything. If that doesn't give you shivers of excitement (and maybe a little dread, too–we love a lot of people in the Shadowhunter world, and we are nervous for them!), we don't know what will.
2. We know what the gorgeous cover looks like
First of all, how incredible is that photo? And second of all, where did Annabel get that dress? Is it available on Rent the Runway? Because we want it in our closet, like, NOW.
3. It's very significant that, unlike other Shadowhunters, Annabel doesn't have any runes…
Okay, who's got a theory? The crazier, the better!
5. The first edition will contain exclusive Shadowhunters content
A Long Conversation was a short story about Jace and Clary available in special editions of the Lady Midnight hardcover. If you can't get your hands on one of those, you can get the story by itself in e-book. And if you've already read it, we know you're pumped for the sequel.
Make sure to pre-order your copy of Queen of Air and Darkness now, so you can get your hands on this extra short story and find out what this means! (Two epilogues? What?)
7. The poem for Queen of Art and Darkness is by Edgar Allan Poe!
You can read the full poem here.
8. There's no time jump between Lord of Shadows and Queen of Air and Darkness.

That means it could be time to re-read Lord of Shadows to refresh yourself of where it left off.
9. And with Queen of Air and Darkness being the last book of The Dark Artifices series, we can't help but think about the closers to Cassie's other series. But that doesn't mean the ending won't be any less surprising.
Cassie still has some unexpected things up her sleeve!

But laughter?? What could that possibly mean?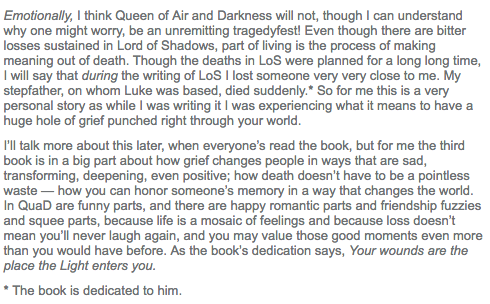 We'll see that grief works in interesting ways in this upcoming book and there are light moments among the dark.
Check!
Check!

Check! (Though this just seems suuuper ominous.)
15. And we can't forget about Robert's death and what it means for Julian and Emma.
The suspense of not knowing is painful!
The gang is all back, for better or for worse.

18. But we have some questions about some of these hints, Cassie…
In fairy folklore, having someone's "true name" means they control him! We're slightly concerned (and curious) that we're going to find out Kieren's!
Eleven? What does that mean!
We just want our favorites to be happy.
19. And we can't forget about all the ships.


21. But Cassie isn't telling us the death count this time around, which means NO ONE IS SAFE.
Get the tissues ready.
She's REALLY keeping us on the edge of our seats.
22. We've already been to so many mysterious and cool places in Shadowhunters universe, but we haven't seen it all yet.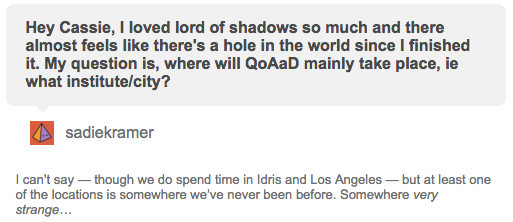 How much stranger can it get?
23. Now that there have been so many sneak peeks, we're just itching to know the rest! Unfortunately, there are no ARCs of Queen of Air and Darkness but don't worry, there's plenty of things to hold you over.
Ghosts of the Shadow Market is a collection of ten short stories set in the universe, published monthly and in e-book format. The fifth one, A Deeper Love, is set to come out on August 14! And The Red Scrolls of Magic is the first book in the upcoming series, The Eldest Curses, which comes out on April 2! You can also read a QuAD sampler now! 
24. There is no shortage of snippets (including unidentified ones) to give us a taste of what the book will be like.



25. And the artwork for different scenes from the book has been leaving us speechless.
26. Here are some more gorgeous artworks that show off the characters together: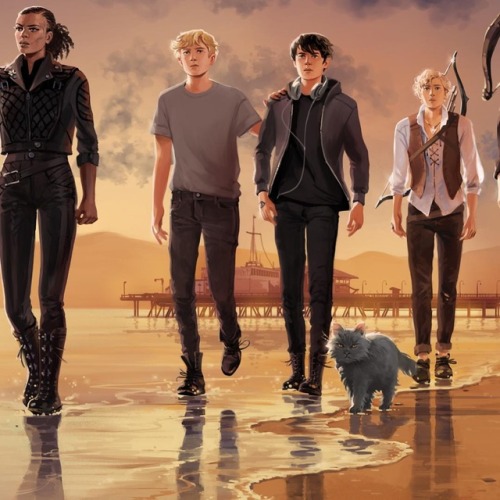 27. And if that wasn't enough, the newsletter dropped another image and an exclusive excerpt: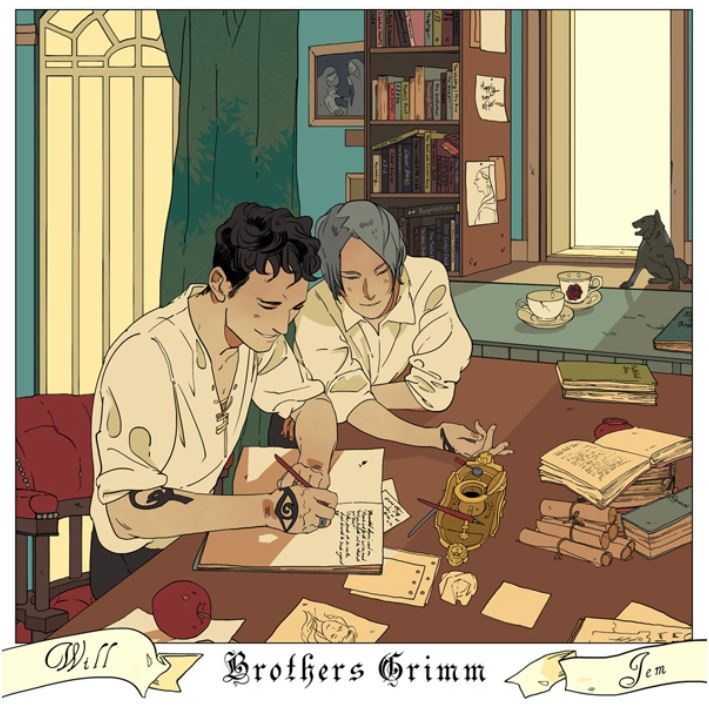 28. To help you keep up with all the cover reveals and special quests at the book tour, here is the schedule!
---
So that's everything we know right now! When we get new information, we'll be sure to update you, so keep this page bookmarked and check-in often!