Spooky season is here! And now that the days are growing shorter, there is nothing better than reading a book that will give you a little scare. So if you're looking for the perfect book to raise your heart rate, look no further than these reads!
15 Spooky, Scary, & Just Plain Eerie Books to Read for Halloween
While this one may appear on a certain other list of not so scary books, I have to respectfully disagree. The lush, striking artwork and stories that deal with murder, sentient parasites, ghost possession, and fratricide, to name a few. This is a fantastically creepy entry, and a must-have for any fan of scary things.
The deep woods are always a foreboding place. Add in spectral twins, slavery, and an embodiment of the devil, and you have a modern classic of creepiness. This incredibly engrossing story of a young girl who feels a much closer connection to the Soul Eaters, the ghostly twins that wiped out her village. Bringing up questions of humanity and what defines a monster; this is a perfect read for a gloomy autumn night.
The first installment in a horror trilogy, Diary of a Haunting tells the story of Paige, a teen forced to move into a creepy house with her mother and brother following her parent's divorce. What follows puts the events of films like Paranormal Activity and The Blair Witch Project to shame. Do not read this one at night time – nightmares are borderline guaranteed.
Abby Booth's mother disappeared 5 years ago while filming a ghost hunting reality TV show in a supposedly haunted cave in Arizona. Determined to find out what happened to her mother, Abby sets out to explore the same cave with a small group of friends. But will she discover the truth about what happened to her mother? Or will she uncover something far more sinister?
In this wonderful entry, we are introduced to Rilla Brae, a young lobsterwoman on the coast of Maine. After her father's sudden death, she is haunted by visions of a young girl, who calls Rilla to a mysterious island. With help from an alluring archeology student, Rilla finds herself on the island, and begins to uncover the deep, dark secrets that the people of her hometown have kept for generations
Audrey arrive at the Hotel Ruby with her father and brother. They're exhausted and broken after her mother's death, and only plan to stay the night. But there's something intoxicating about the hotel, and suddenly they're staying an extra day…then a couple extra days…then a week. Nightly fancy affairs in the ballroom are invitation only, and Audrey seems to be the one guest who doesn't have an invite. Instead, she joins the hotel staff on the rooftop, catching whispers about the hotel's dark past. The more Audrey learns about the new people she's met, the more her curiosity grows. But if she's not careful, her curiosity will bring her to a place from which she can never return.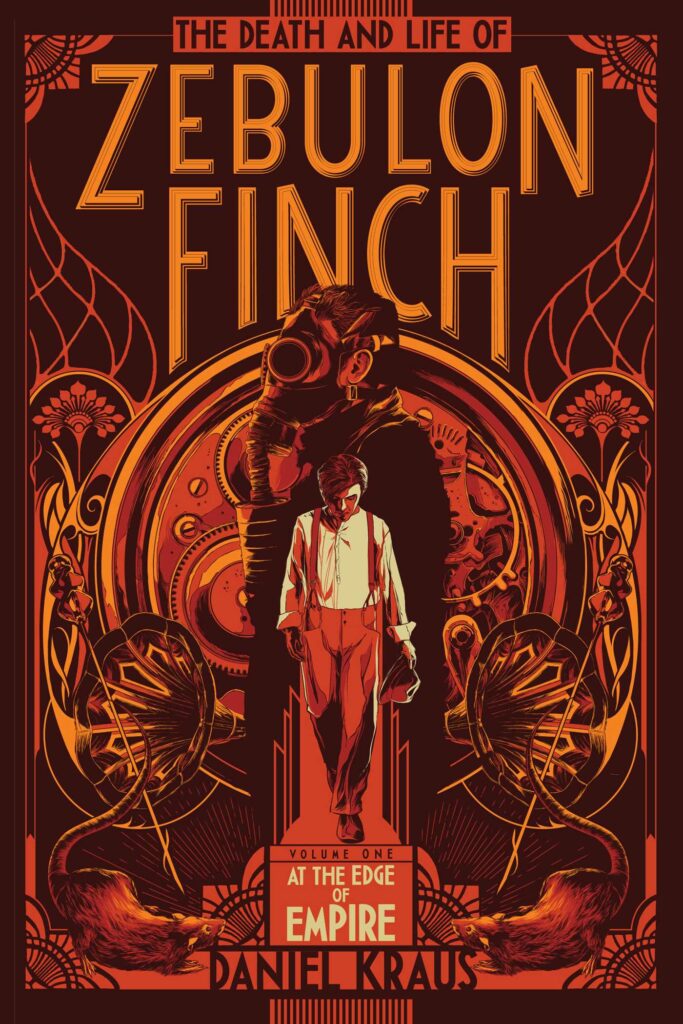 May 7, 1896.
Dusk. A swaggering seventeen-year-old gangster named Zebulon Finch is gunned down by the shores of Lake Michigan. But after mere minutes in the void, he is mysteriously resurrected.
His second life will be nothing like his first.
8. Rot & Ruin by Jonathan Maberry
In the zombie-infested, post-apocalyptic America where Benny Imura lives, every teenager must find a job by the time they turn fifteen or get their rations cut in half. Benny doesn't want to apprentice as a zombie hunter with his boring older brother Tom, but he has no choice. He expects a tedious job whacking zoms for cash, but what he gets is a vocation that will teach him what it means to be human.
The voices in her head are not her own…
Everyone thinks Sophie's sister, Nell, went crazy. But Sophie doesn't believe that Nell would take her own life, and she's convinced that Nell's doctor knows more than he's letting on. As Sophie starts to piece together Nell's last days, every lead ends in a web of lies. And the deeper Sophie digs, the more danger she's in—because now she's hearing the same haunting whispers. Sophie's starting to think she's going crazy too. Or worse, that maybe she's not…
10. The House by Christina Lauren
His shirt is black, jeans are black, and shaggy black hair falls into his eyes. And when Gavin looks up at Delilah, the dark eyes shadowed with bluish circles seem to flicker to life. He lives in that house, the one at the edge of town. Spooky and maybe haunted. Something worse than haunted. And Gavin is trapped by its secrets. Delilah and Gavin can't resist each other. But staying together will exact a price beyond their imagining.
In 1911 New York City, seventeen-year-old Frances Hallowell spends her days as a seamstress, mourning the mysterious death of her brother months prior. Everything changes when she's attacked and a man ends up dead at her feet—her scissors in his neck, and she can't explain how they got there.
12. Vespertine by Margaret Rogerson
The dead of Loraille do not rest. Artemisia is training to be a Gray Sister, a nun who cleanses the bodies of the deceased so that their souls can pass on; otherwise, they will rise as spirits with a ravenous hunger for the living. She would rather deal with the dead than the living, who trade whispers about her scarred hands and troubled past.
After years of waiting for her Calling—a trial every witch must pass to come into their powers—the one thing Voya Thomas didn't expect was to fail. When Voya's ancestor gives her an unprecedented second chance to complete her Calling, she agrees—and then is horrified when her task is to kill her first love. And this time, failure means every Thomas witch will be stripped of their magic.
One dark and stormy night, Haley sees a stranger drowning in the river. Since her greatest passion is Gothic romance novels, she knows her moment has come. But when Haley leaps into the water to rescue the stranger, she awakens in Willowweep. It certainly looks like the setting of one of her favorite books: A stately manor. A sinister housekeeper. Three brooding brothers. There's even a ghost.
Be careful of the dark, dark wood…Especially the woods surrounding the town of Fir Haven. Some say these woods are magical. Haunted, even.
Want a creepy book that will still let you sleep at night? We've got book recs for you!