People are exhausting. They're loud, rude, and they don't understand why you'd rather stay in bed re-reading City of Bones for the fiftieth time than putting on clothes, going outside, and talking to people about the weather and their hobbies. So next time you bail on plans because your bed is calling you, cuddle up with one of these books about introverts that we know you'll love.
6 Books About Introverts for Introverts
If you haven't read The Perks of Being a Wallflower yet, cancel all of your immediate plans. After Charlie's best and only friend commits suicide, he enters his freshman year of high school more alone than ever. As an introvert, Charlie prefers to live life on the periphery, and struggles to make friends. Eventually, he is befriended by step-siblings Sam and Patrick, who take him under their wing, and introduce him to The Smiths, David Bowie, and The Rocky Horror Picture Show. While never losing his introversion, Charlie learns to "participate" in his own life and to not be afraid to ask for what he wants. If you're looking for great books about introverts, The Perks of Being a Wallflower is the perfect place to start. It is a true love letter to introverts, and required reading for anyone who's ever felt like they don't belong.
If you're reading this post, there's a good chance you relate to Lara Jean's obsession with books, and perhaps, even her affection for steamy romance. While Lara Jean's preference for books over people is relatable, it's also the reason the steamy romances she reads don't translate to her love life. That is, until her sister sends her love letters to her current and former crushes, and wonderful chaos ensues. Lara Jean learns there is nothing wrong with staying in to scrapbook, read, or bake, as long as it's not because you're too afraid to live your life and experience new things. Read this book to inspire you to go out into the world and find a Peter Kavinsky for yourself, or a hobby or interest that's just as fulfilling.
3. Sam and Penny – Emergency Contact by Mary H.K. Choi
I think it's kinda safe to say that both Penny and Sam are introverts. When Penny and Sam agree to become each other's emergency contacts, they don't know each other well, but it's not like they have better options. Both of their mothers are unreliable, and neither of their fathers are in the picture. Penny and Sam are pretty awkward IRL, but they quickly develop an intense relationship over text, sharing their dreams of becoming artists in their own right and their difficult pasts. Emergency Contact shows that as aspirational as a solely digital relationship can be to an introvert, it's a false intimacy. Emergency Contact will inspire you to go out of comfort zone and find a relationship that's worth leaving your bed.
If you're looking for books about introverts, look no further than Analee. In life, Analee is an introvert who's avoiding her problems, but online, as Kiri, she's a brave badass night elf hunter unafraid of anything. Analee prefers living as Kiri and develops feelings for her game partner Xolkar, a teen boy named Harris who's she's never met. Soon Analee's real life gets as complicated as her gaming one when her lab partner convinces her to enter a fake relationship so that he can make his ex-girlfriend jealous. Analee agrees because talking to people in real life isn't her strong suit and she wants practice for when she finally gathers the courage to meet Harris. While the romantic chaos and love triangle is fun, the true joy of Analee in Real Life is her emotional journey. Analee never loses her introversion and her love of gaming, but she learns that she's much braver than she thinks, and real Analee, isn't afraid of anything either.
5. Zorie – Starry Eyes by Jenn Bennett
Another great addition to our books about introverts list, is Zorie. She prefers looking at the stars than interacting with people, so when she's stranded in the woods with her ex-best friend and crush Lennon, it's not her ideal scenario. But as Zorie and Lennon face the great wilderness together, the walls that she had built to protect herself are slowly eroded my his irresistible charm, sarcasm, and affection for her. Eventually, as Zorie opens herself up to the possibility of something more, she finds the stars aren't the only thing she loves in the universe.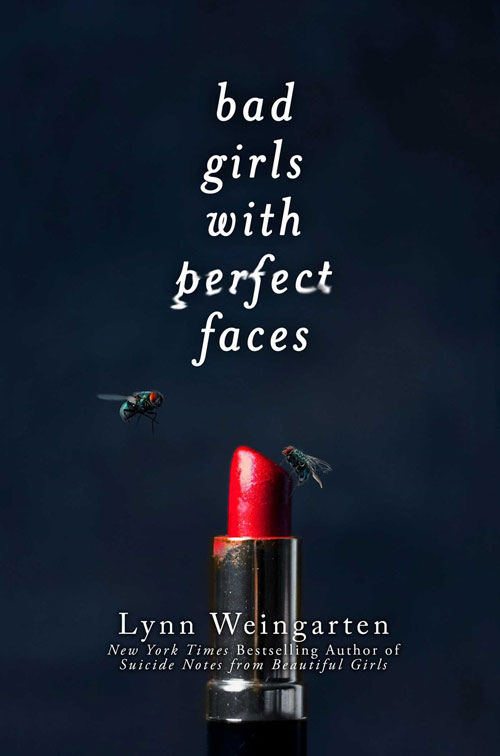 Xavier's best friend Sasha only wants what's best for him, or so she believes. She hates his cheating ex, Ivy and when she thinks Xavier might get back together with her, she hatches a plan. Sasha decides to catfish Ivy in order to lure her away, but her plan goes dangerously awry. Xavier is a sweet introvert, who doesn't like conflict or hurting people's feelings, and although Sasha may have had good intentions, it's completely unacceptable for her to meddle in his life. Xavier's introversion is not a license to interfere. This is something I think all introverts can understand, which is why it's a perfect addition to this list of books about introverts for introverts. Bad Girls with Perfect Faces reveals the darkness inside all of us and is a warning to never meddle in someone's life, even if you think it's for the best.