If the way to your heart is food, read these books!
Books to Read If Food is Your Love Language
In Loan Le's A Pho Love Story, aspiring artist Linh and budding writer Bao fall in love despite their families' rivaling pho restaurants. Hungry yet? To make this romance more delicious, the unlikely duo grows closer when they're paired together to review restaurants for their high school newspaper.
Lila Reyes' summer is not going as planned in A Cuban Girl's Guide to Tea and Tomorrow. She was supposed to be in Miami: taking over her abuela's role as head baker at her panaderia, moving in with her best friend, and living her happily ever after with her boyfriend. Instead, she finds herself in dreary Winchester England, a small town lacking flavor (both in food and otherwise). But Lila's luck begins to change when she meets local teashop clerk, Orion Maxwell.
Jenny Han's To All the Boys I've Loved Before series is filled with food-centered acts of love, but we especially love Lara Jean's quest to find the best chocolate chip cookie (as well as Peter's New York contribution to the effort) in Always and Forever, Lara Jean. Our favorite baker extraordinaire faces some tough decisions as the end of high school approaches in the final installment of this iconic series.
Halle from What I Like About You is also a passionate baker, but her specialty is cupcakes—specifically cupcakes based on the books she's featuring on her popular book blog, One True Pastry. Of course, no one online knows her as Halle. To her readers, her blogger friends, and her very best friend Nash, she's the enigmatically cool Kels. And she intends to keep it that way, but then she transfers schools and comes face-to-face with real-life Nash.
Jenna Evans Welch's sweet abroad romances all have some delightful food moments, but in Love & Olives, unexpected roommate Theo affectionately nicknames our protagonist after a food. Theo calls Liv "Kalamata" because Liv hates being called by her full name Olive. Liv is in Santorini to reconnect with her estranged father, but along the way she takes in the breathtaking sights of Santorini, has some memorable meals, and maybe even finds love.
6. Hungry Hearts edited by Elsie Chapman and Caroline Tung Richmond
This one is a must-read for food-lovers. The short stories in this stunning, multicultural collection revolve around the intersection of family, culture, and food in the lives of teens, with contributions from critically acclaimed authors like Sandhya Menon, Anna-Marie McLemore, Rin Chupeco, and more!
7. Stay Sweet by Siobhan Vivian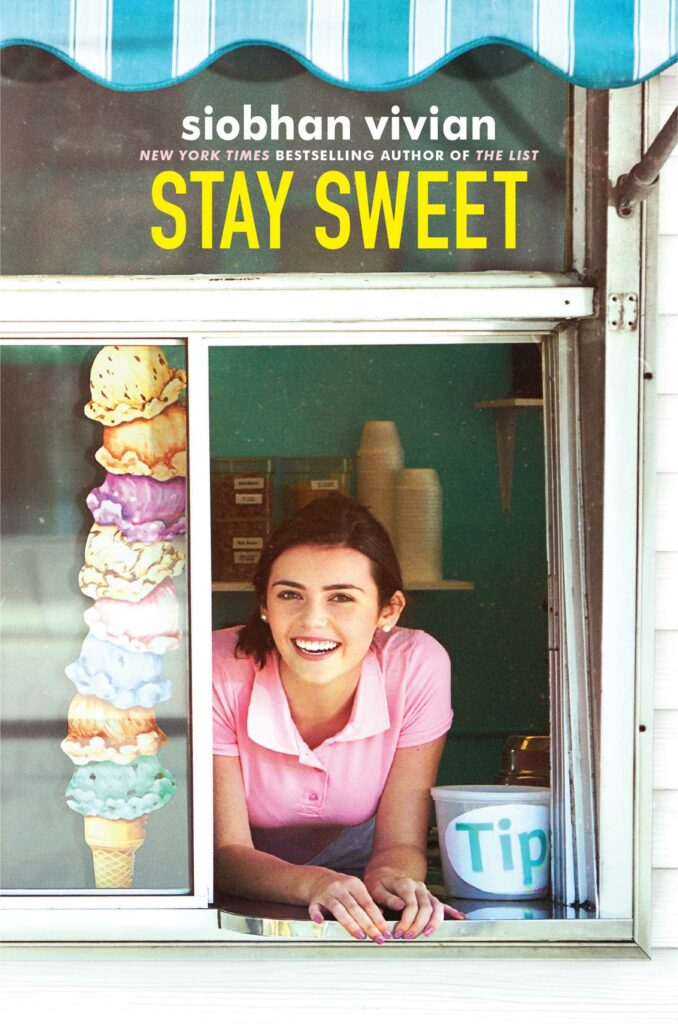 If you scream for ice cream, read Stay Sweet, a YA contemporary about a group of girls who work at their local ice creamery. Meade Creamery was founded to cheer up lovesick girlfriends waiting for their boyfriends to return from the war in 1944, and since then the place has been exclusively owned and managed by local girls. But when Molly passes away, the future of Meade Creamery becomes unclear—until Molly's grandnephew arrives. But Grady's got some changes in mind…
Maybe you wouldn't expect the protagonist of a riveting dark fantasy to have a central passion of cooking, but that's definitely the case for Voya of Liselle Sambury's Blood Like Magic. When she is not trying to fall in love with her genetically matched soulmate in order to kill him to save her family's magic, she is trying to perfect her Caribbean-Canadian recipes for a local cooking competition. For Voya, cooking is a tribute to her heritage, a way to show care for her family and community—and also an early courting method to reach the alluring and elusive Luc.