Crafting is a great way to spend your free time—and can turn into something super dope and worthy of sharing on social media (isn't it okay to show off?). As a fellow book lover, I know that it's super tempting to just re-arrange your shelf by color or size (you name it), but there are some incredible book-related crafts that I just can't WAIT to try. If you have the time, you'll totally be tempted to try them too.
The Perfect Crafts for Book Lovers
1. Book Folding Patterns
Folded book patterns look stunning on any bookshelf and are a great conversation piece. There are a ton of book folding patterns available online that can be used on any of your favorite titles, but you can also find pre-folded book patterns online (the easiest in my opinion). Seriously, they look great.
Check out this book folding pattern here.
2. Printed Book Page Art
I LOVE book page art prints. There are a ton of crafty Etsy users who screen print original art on book pages. But if you are artistically challenged, such as myself, you can actually cut out a book page and print an image directly on it, frame, and then pat yourself on the back for your ingenuity. These look great in any book nook (or any room in your house.) They are *chefs kiss* so stunning.
Find all the tips for how to create amazing book prints here.
3. Book Page Wallpaper
This would be a real undertaking but I am SO down to create this look. This is another craft that would really spruce up your reading space. Not only that, but it would also give you a fantastic selfie backdrop. There are some logistics involved here that have been solved by some very interior design-minded people—and it actually seems much easier to pull off than it looks.  10/10 must try.
Check out these instructions for easy DIY wallpaper.
4. TBR Jar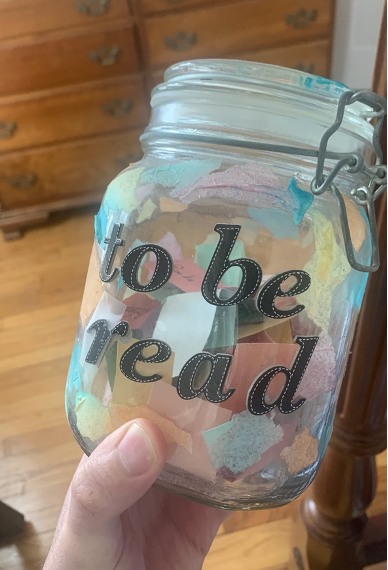 Us book worms always have an ever-growing to-read list. You are guilty of this and you know it. And that's totally okay! But this craft here puts a fun spin on it. There are pre-made ones available online, but you can just grab a mason jar, label and decorate it as you please, then write each TBR title on an individual piece of colored paper, then insert into the jar and pick at random! How easy and cute is that? Brian Murray put me on to this and shared the above image of his own TBR jar!
5. Bookshelf Insert
Creating a DIY bookshelf insert is an awesome way to make your bookshelf special and unique. I think spending a weekend making one of these sounds like a weekend well spent! You don't have have to do a fantasy-themed one, the world is your oyster when it comes to making a little bookshelf insert. And if you don't want to make an insert yourself, that's ok! There are so many on Etsy.
Anyways, there are SO many other book crafts online, like book sculpture and what not, but these are a few of my favorites. Happy crafting!