#RivetedRevealsWeek is here!
What, you ask, is Riveted Reveals Week? It's that special time of year when we show you all the shiny new covers for books coming out in just a few seasons. From October 10 – October 14, we're be showing you all the new covers for our Summer 2023 young adult books. So get your Goodreads shelf ready because you're going to want to add all of these books to your TBR!
Take a look!
Your First Look at All the Covers for Our Summer 2023 YA Books
---
10/10: Cover Reveals Day 1
---
Time Out by Sean Hayes, Todd Millner, and Carlyn Greenwald
Heartstopper meets Friday Night Lights in this keenly felt coming-of-age story about a teen hometown hero who must find out who he is outside of basketball when his coming out as gay costs him his popularity and place on the team.
In his small Georgia town, Barclay Elliot is basically a legend. Here basketball is all that matters, and no one has a bigger spotlight than Barclay. Until he decides to use the biggest pep rally in the town's history to come out to his school. And things change. Quickly.
Barclay is faced with hostility he never expected. Suddenly he is at odds with his own team, and he doesn't even have his grandfather to turn to the way he used to. But who is Barclay if he doesn't have basketball?
His best friend, Amy, thinks she knows. She drags him to her voting rights group, believing Barclay can find a bigger purpose. And he does, but he also finds Christopher. Aggravating, fearless, undeniably handsome Christopher. He and Barclay have never been each other's biggest fans, but as Barclay starts to explore parts of himself he's been hiding away, they find they might have much more in common than they originally thought.
Infested by Angel L. Colon
The Taking of Jake Livingston meets Cemetery Boys in this YA ghost story about a Puerto Rican teen's battle with a malevolent spirit targeting his apartment building and the all-too-real horrors of gentrification.

It's the summer before senior year, and Manny has just moved from Texas to the Bronx in New York. So, instead of hanging with his friends and making some spending money, Manny is forced to do menial tasks in his new home, a luxury condo his stepdad is managing, while stressing about starting over.

Thankfully, he meets Sasha, who is protesting the building but turns out to be really cool. And he strikes up an unlikely friendship with Mr. Mueller, the building's exterminator. Maybe life in the Bronx won't be so bad.

Then the nightmares begin. And Manny swears he has roaches crawling under his skin. When building contractors start to go missing, Manny and Sasha come to the terrifying realization that Mr. Mueller is not who he says he is. Or rather, he is, but he died decades ago in a fire exactly where Manny's new building is located. A fire that Mueller set.

Now, in a race against time, Manny must rescue his family from a deranged specter determined to set the Bronx ablaze once again.
---
10/11: Cover Reveals Day 2
---
For fans of You've Reached Sam and A Heart in a Body in the World, this searing and heartrending teen novel follows an ex-couple as they struggle to reunite in the wake of a devastating earthquake.

High school sweethearts Mia Clementine and Alfie Thanasis had a plan to escape their town for college in the east. Mia would leave her hard-core evangelical home for Sarah Lawrence College, and Alfie would have a new place to pursue his three loves: baseball, poetry, and Mia. But when Alfie got offered a scholarship to the University of San Francisco the same week the entire town found out about Mia's mom's affair with their church's pastor, Mia's world imploded and she pushed everyone away…including Alfie.

Five months after the worst summer ever, Mia is crashing at her best friend's dorm at San Francisco State, just a few miles away from the University of San Francisco, praying she never runs into the boy whose heart she broke. And Alfie is trying to make the most of his freshman year while struggling to reconcile with the abrupt ending of his first love.

When Mia and Alfie's paths cross for the briefest of moments, Mia realizes she never should have let him go and Alfie's suppressed memories and feelings boil to the surface. But their reunion is cut short when a massive earthquake rocks San Francisco, leaving them to stumble desperately across the rubble in search of the ex they still love before the city crumbles—taking one, or both, of them with it.
A baker's apprentice reluctantly embarks on an adventure full of magic, new friendships, and a prince in distress in this deliciously romantic young adult fantasy that's perfect for fans of Margaret Rogerson and Gail Carson Levine.

It's not all sugar and spice at Basil's Bakery, where seventeen-year-old Aurelie is an overworked, underappreciated apprentice. Still, the job offers stability, which no-nonsense Aurelie values highly, so she keeps her head down and doesn't dare to dream big—until a stranger walks in and hands her a set of Seeking stones. In a country where Seeking was old-fashioned even before magic went out of style, it's a rare skill, but Aurelie has it.

The stranger, who turns out to be a remarkably bothersome bounty hunter named Iliana, asks for Aurelie's help rescuing someone from the dangerous Underwood—which sounds suspiciously like an adventure. When the someone turns out to be Prince Hapless, the charming-but-aptly-named prince, Aurelie's careful life is upended. Suddenly, she finds herself on a quest filled with magic portals, a troll older than many trees (and a few rocks), and dangerous palace intrigue.

Even more dangerous are the feelings she's starting to have for Hapless. The more time Aurelie spends with him, the less she can stand the thought of going back to her solitary but dependable life at the bakery. Must she choose between losing her apprenticeship—or her heart?
Bonesmith by Nicki Pau Preto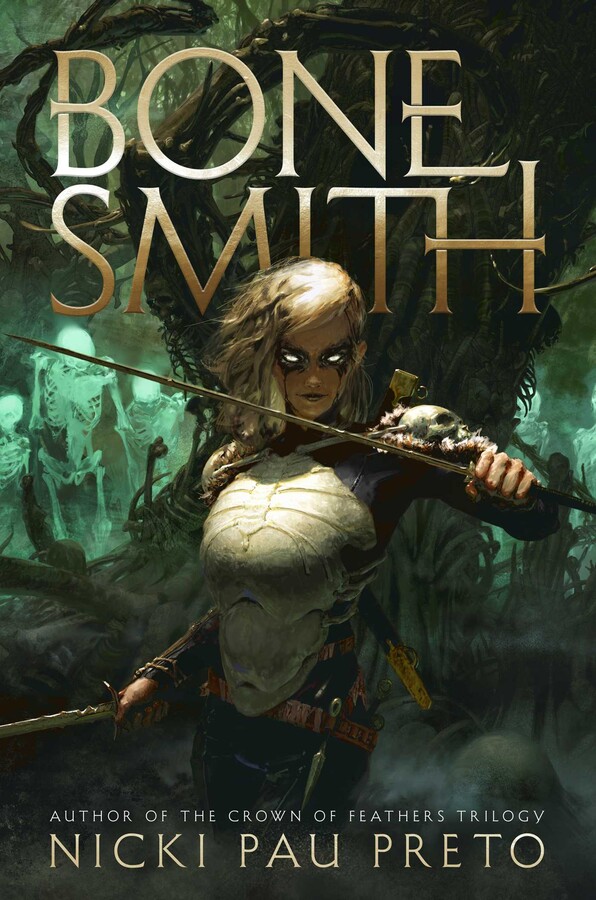 Gideon the Ninth meets the Game of Thrones White Walkers in this dark young adult fantasy about a disgraced ghost-fighting warrior who must journey into a haunted wasteland to rescue a kidnapped prince.

Ready your blade. Defeat the undead.

In the Dominions, the dead linger, violent and unpredictable, unless a bonesmith severs the ghost from its earthly remains. For bonesmith Wren, becoming a valkyr—a ghost-fighting warrior—is a chance to solidify her place in the noble House of Bone and impress her frequently absent father. But when sabotage causes Wren to fail her qualifying trial, she is banished to the Border Wall, the last line of defense against a wasteland called the Breach where the vicious dead roam unchecked.

Determined to reclaim her family's respect, Wren gets her chance when a House of Gold prince is kidnapped and taken beyond the Wall. To prove she has what it takes to be a valkyr, Wren vows to cross the Breach and rescue the prince. But to do so, she's forced into an uneasy alliance with one of the kidnappers—a fierce ironsmith called Julian from the exiled House of Iron, the very people who caused the Breach in the first place…and the House of Bone's sworn enemy.

As they travel, Wren and Julian spend as much time fighting each other as they do the undead, but when they discover there's more behind the kidnapping than either of them knew, they'll need to work together to combat the real danger: a dark alliance that is brewing between the living and the undead.
---
10/12: Cover Reveals Day 3
---
In the spirit of Paolo Bacigalupi and Laini Taylor, this futuristic star-crossed love story follows two teens in a starkly unequal world struggling to find their place.

Sixteen-year-old Rumi Sabzwari has spent his entire life behind the armored walls of St. Iago, which protect citizens of the Union of Upper Cities from the outside world's environmental devastation. But when rebels infect his father with a fatal virus, Rumi escapes St. Iago, desperate to find a cure.

In the ruined city of Paraíso, Rumi meets fifteen-year-old Paz, who agrees to guide him on his journey. As they travel together, Rumi finds himself drawn to Paz—and behind her tough exterior, she begins to feel the same way. But Paz knows more about Rumi's father's illness than she's saying and has her own agenda. With the powerful forces at play in their cities putting them at odds, can the two learn to trust in each other—enough to imagine a different world?
HBO Max's Hacks gets a romantic twist in the vein of Jenn Bennett in this swoon-worthy novel about a standoffish teen girl whose loner status gets challenged by a dynamic elderly woman and a perpetually cheerful boy.

Eloise Deane is the worst and doesn't care who knows it. She's grumpy, prefers to be alone, and is just slogging through senior year with one goal: get accepted to USC and move to California. So when her guidance counselor drops the bombshell that to score a scholarship she'll desperately need, her applications require volunteer hours, Eloise is up for the challenge. Until she's paired with LifeCare, a volunteer agency that offers social support to lonely seniors through phone calls and visits. Basically, it's a total nightmare for Eloise's anxiety.

Eloise realizes she's made a huge mistake—especially when she's paired with Austin, the fellow volunteer who's the sunshine to her cloudy day. But as Eloise and Austin work together to keep Marianne Landis—the mysterious former frontwoman of the 1970s band the Laundromats—company, something strange happens. She actually…likes Marianne and Austin? Eloise isn't sure what to do with that, especially when her feelings toward Austin begin to blur into more-than-friends territory.

And when ex-girlfriends, long-buried wounds, and insecurities reappear, Eloise will have a choice to make: go all in with Marianne and Austin or get out before she gets hurt.
---
10/13: Cover Reveals Day 4
---
This ripped-from-the-tabloids young adult drama by the critically acclaimed author Kelly Loy Gilbert about a girl's famous-for-being-famous family fracturing from within as their dirty laundry gets exposed.

The Lo family sticks together. That's what Honor has been told her whole life while growing up in the glare of the public eye on Lo and Behold, the reality show about her, her four siblings, and their parents.

Their show may be off the air, but the Lo family members still live in the spotlight as influencers churning out podcasts, bestselling books, and brand partnerships. So when Honor's father announces that he's moving out of their northern California home to rent an apartment in Brooklyn, Honor's personal upset becomes the internet's trending B-list celebrity trainwreck—threatening the aspirational image the Los' brand (and livelihood) depends on.

After one of her best friends leaks their private conversation to a gossip site, bruised and betrayed Honor pours all her energy into reuniting her family. With her parents 3,000 miles apart, her siblings torn into factions, and all of them under claustrophobic public scrutiny, this is easier said than done. Just when Honor feels at her lowest, a guarded yet vulnerable boy named Caden comes into her life and makes her want something beyond the tight Lo inner circle for the first time. But is it fair to open her heart to someone new when the people she loves are teetering on the edge of ruin?

As increasingly terrible secrets come to light about the people Honor thought she knew best in the world, she's forced to choose between loyalty to her family and fighting for the life she wants.
This lyrical coming-of-age novel for fans of Darius the Great Is Not Okay and On the Come Up, set in southern California in 1996, follows a teen who wants to honor her deceased friend's legacy by entering a rap contest.

Perfect Iranian girls are straight A students, always polite, and grow up to marry respectable Iranian boys. But it's the San Fernando Valley in 1996, and Rana Joon is far from perfect—she smokes weed and loves Tupac, and she has a secret: she likes girls.

As if that weren't enough, her best friend, Louie—the one who knew her secret and encouraged her to live in the moment—died almost a year ago, and she's still having trouble processing her grief. To honor him, Rana enters the rap battle he dreamed of competing in, even though she's terrified of public speaking.

But the clock is ticking. With the battle getting closer every day, she can't decide whether to use one of Louie's pieces or her own poetry, her family is coming apart, and she might even be falling in love. To get herself to the stage and fulfill her promise before her senior year ends, Rana will have to learn to speak her truth and live in the one and only now.
---
10/14: Cover Reveals Day 5
---
Our Flag Means Death gets a magical, sapphic twist in this swashbuckling young adult graphic novel adventure full of high-stakes adventure, fantastical creatures, and a swoony enemies-to-lovers romance perfect for fans of In Deeper Waters and The Prince and the Dressmaker.

"I want to be beautiful. I want to be interesting. I want to be enough."

That was Ferra Brickminder's prayer to win back the love of her life. And the gods answer—just not in the way she expected. After hoping for a miracle, Ferra instead watches her skin turn into delicate and dangerously breakable porcelain.

Elsewhere, Brigantine de la Girona, a disgraced orc pirate captain, has her own problems. Penniless and banished from her home, Brig struggles to make ends meet with her crew as her only support. So, when a desperate Ferra enlists Brig to sail her across the Great Sea to her ex-girlfriend's home for a very handsome fee, Brig is happy to strike a deal.

Pampered Ferra and tough-as-nails Brig quickly butt heads, bickering their way across the high seas, but as they encounter increasingly perilous obstacles—including the gods themselves—the two become reluctant allies…and maybe more.
Writing in Color edited by Nafiza Azad and Melody Simpson 
Rethink the way you approach writing in this revolutionary and informative new anthology from fourteen diverse authors that demystifies craft and authorship based on their experiences as writers of color—perfect for fans of Fresh Ink and Our Stories, Our Voices.

So, you're thinking of writing a book. Or, maybe you've written one, and are wondering what to do with it. What does it take to publish a novel, or even a short story? If you're a writer of color, these questions might multiply; after all, there's a lot of writing advice out there, and it can be hard to know how much of it really applies to your own experiences. If any of this sounds like you, you're in the right place: this collection of essays, written exclusively by authors of color, is here to encourage and empower writers of all ages and backgrounds to find their voice as they put pen to page.

Perhaps you're just getting started. Here you'll find a whole toolkit of advice from bestselling and award-winning authors for focusing on an idea, landing on a point of view, and learning which rules were meant to be broken. Or perhaps you have questions about everything beyond the first draft: what is it really like being a published author? These writers demystify the process, sharing personal stories as they forged their own path to publication, and specifically from their perspectives as author of color.

Every writer has a different journey. Maybe yours has already started. Or maybe it begins right here.

Contributors include: Julie C. Dao, Chloe Gong, Joan He, Kosoko Jackson, Adiba Jaigirdar, Darcie Little Badger, Yamile Saied Mendez, Axie Oh, Laura Pohl, Cindy Pon, Karuna Riazi, Gail D. Villanueva, Julian Winters, and Kat Zhang.
---
Additional Cover Reveals
---
A Black teen desperate to regain her Ivy League acceptance enters an elite competition only to discover the stakes aren't just high, they're deadly, in this searing thriller that's Ace of Spades meets Squid Game with a sprinkling of The Bachelor.

You must work twice as hard to get half as much.

Adina Walker has known this the entire time she's been on scholarship at the prestigious Edgewater Academy—a school for the rich (and mostly white) upper class of New England. It's why she works so hard to be perfect and above reproach, no matter what she must force beneath the surface. Even one slip can cost you everything.

And it does. One fight, one moment of lost control, leaves Adina blacklisted from her top choice Ivy League college and any other. Her only chance to regain the future she's sacrificed everything for is the Finish, a high-stakes contest sponsored by Edgewater's founding family in which twelve young, ambitious women with exceptional promise are selected to compete in three mysterious events: the Ride, the Raid, and the Royale. The winner will be granted entry into the fold of the Remington family, whose wealth and power can open any door.

But when she arrives at the Finish, Adina quickly gets the feeling that something isn't quite right with both the Remingtons and her competition, and soon it becomes clear that this larger-than-life prize can only come at an even greater cost. Because the Finish's stakes aren't just make or break…they're life and death.

Adina knows the deck is stacked against her—it always has been—so maybe the only way to survive their vicious games is for her to change the rules.