It's that time of year where everything is decked out in twinkling lights, people are hauling dead trees into their homes, and Santas are on every corner. Do you hear that constant jingling in the air? Is it bells ringing everywhere you turn or is it every last cent in your pocket going towards books instead of gifts for your friends and family?
If you've accidentally bought too many books this year and can't afford anything on your friends' or families' wish lists, we've got you covered for bookish gifts to craft yourself. Whether it's your twelfth extra copy of your favorite novel or that textbook that you forgot to return, grab books that you can spare and break out the glitter glue.
1. Classic Ornaments – Grab a classic like A Christmas Carol and tear up some of the most festive passages to decoupage them to make a timeless ornament.
(source)
---
2. Elegant Glass Ornament –  Curl up some favorite quotes if you'd prefer not to get your hands all gluey.
(source)
---
3. Sparkling Snowflake – If you have a lot of patience and can follow a tutorial, you can weave your favorite stories together into this intricate snowflake.
(source)
---
4. 3D Paper Star – If you're tired of making ornaments and want to take things to the next level, it's time to take some pages from your bigger books to make this 3D star for the top of the tree or you could make a whole bunch to hang from a bannister or a window.
(source)
---
5. Book Wreath – If you can't choose just one book to get lost in as you reinvent it as a seasonal decoration, rip out pages from a bunch and make a wreath perfect for the well-rounded reader.
(source)
---
6. Art for word lovers – Get really artsy for this one by drawing, carefully painting, or printing onto dictionary pages. You could even use dictionary pages to match your friends' initials to make the gift even more personalized.
---
7. Book Page Candle Holder – Show someone that books can really light up their day with this adorable cut-out candle holder (but please do not burn your house down).
(source)
---
8. Folded Pages Book Display – I have no idea how this foldy business works, but you don't have to cut pages for this craft! Plus you can get all sorts of customizable patterns to make anything for your music loving friends to your Star Wars fanatic relatives.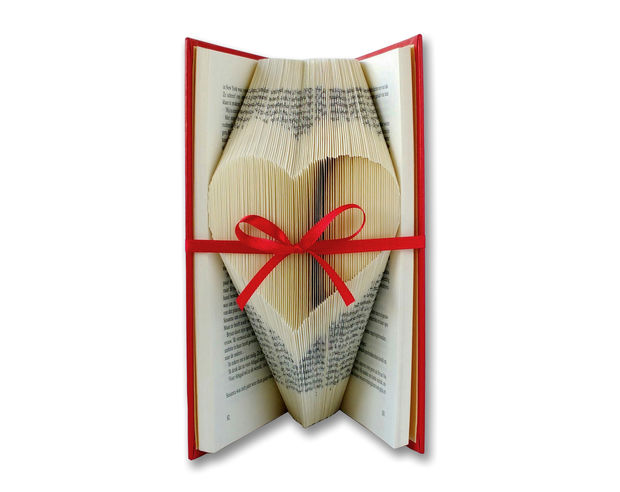 (source)
---
9. Secret Book Safes – For your more, uh, questionable friends or maybe those who like to snack in the library (shh!), this super secretive book safe is perfect.
---
10.  Literary Envelopes – For your snail mail or stationery loving friend, print out a template and start folding up some cute recycled envelopes. This also works great with old picture books.
(template)
---
11. Gift tags – Old book pages make great wrapping paper, too (no one will even suspect that you've maybe wrapped a new book inside, probably). You can add festive colorful stamps or stickers on top or cut the pages up to make little gift tags.
(source)
---
12. Book bows – Don't forget to tie everything up and top your presents off with a fun bow!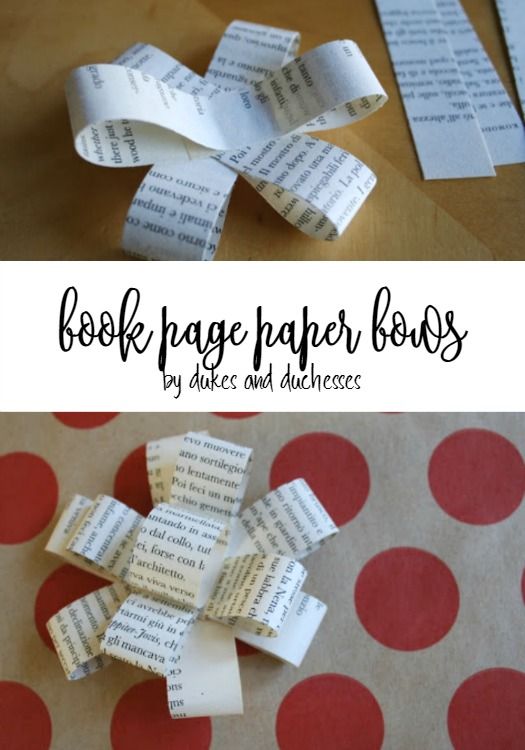 (source)