Books aren't just an alternate reality to escape into, they're also the place where we become a little too attached to our favorite book boyfriends that will (sadly) never exist in real life. We've rounded up a few of our favorite book boyfriends to give you all the romance, drama, and moments you'll swoon over in your next read. Get ready for some classic friends-to-lovers goodness, and a few juicy love triangles that will force you to choose between two eligible bachelors… or Shadowhunters.
12 Book Boyfriends You'll Want to Date
Lara Jean's love life went through quite the roller coaster ride in this novel, and though her first relationship was a staged one, it definitely is one of my favorite she-gets-the-guy moments. Peter Kavinsky is the classic jock-turned-nice guy that we all know and love!
Now that's not to say Peter K doesn't still have his knave moment in this love story, but it just serves to show how gosh-darned SWEET Lara Jean's ex-crush John Ambrose is. Sweet and charming, John Ambrose is the perfect book boyfriend on paper, if good guys are your thing. Will Lara Jean give him a fair shot? If you haven't picked the book (and its sequels) up, what are you waiting for!
Will Herondale and Jem Carstairs – Clockwork Angel by Cassandra Clare
As Tessa is forced to build an alliance with the self-proclaimed superior Shadowhunters to save her brother, these "alliances" prove to be much more complicated than she anticipated. Tessa is not only thrown into the shadow world, but she's thrown right in the middle of a love triangle between two best friends!
Tessa is forced to make many choices throughout her journey but choosing between Will and Jem might just be impossible. On one hand, Jem completely understands her inside and out, and on the other, Will is a bad boy whose life could be saved through their undeniable bond. Are you team Jem or team Will? Once you've read Clockwork Angel, find the rest of Will, Jem, and Tessa's story in Clockwork Prince and Clockwork Princess!
Jace Herondale – City of Bones by Cassandra Clare
Clary Fray is taken for a wild ride in this gritty fantasy, and while she's getting used to the magical realm, she finds herself pulled towards Jace's magic at the same time. Jace is the kind of boy that makes us all want to run away at first, but we don't because we see that there's a really great guy under all of that drama (and trauma).
He's hot, brave to a fault, and overly confident all because of his deep-rooted issues from his relationship with his father. And just when you thought Jace couldn't get any more irresistible, he goes ahead and learns from his past and comes out stronger on the other side!
Selwyn Kane and Nick Davis – Legendborn by Tracy Deonn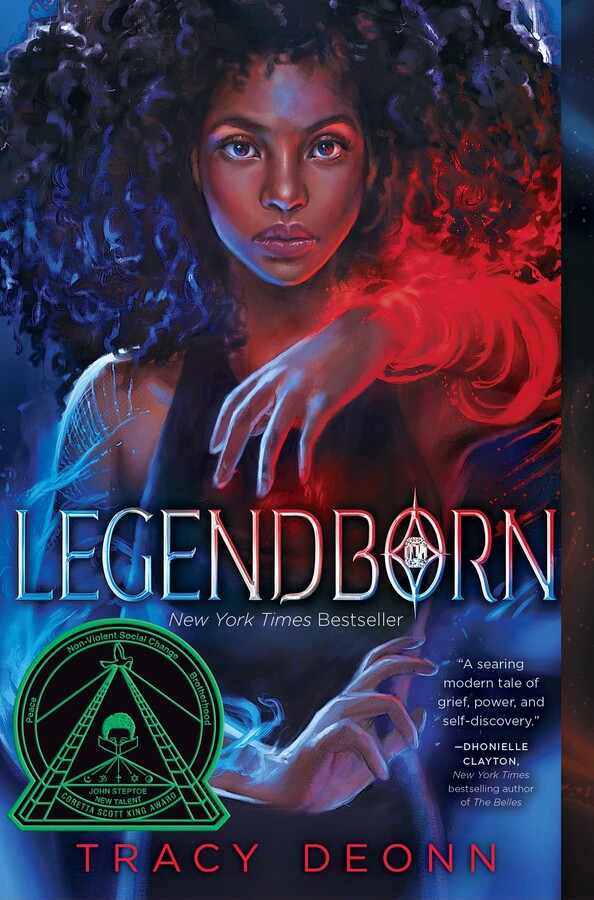 Rarely do we see a love triangle where all three people have some kind of love interest for each other, and these two leading men make it really hard to choose a favorite! They are both loyal, kind, and brave – the definition of heroes.
Bree and Sel's relationship is definitely complicated, but there's no denying their connection. Sel has shown Bree that he will put his life on the line for her no matter what, which ultimately has begun to win Bree over. Then we have Nick, whose firm morals and emotional availability make him a great catch, and he's super attractive, which doesn't hurt either! Are you team Bree and Sel, Sel and Nick, or Bree and Nick? Once you've read Legendborn, get ready for more of Bree, Nick, and Sel's story in Bloodmarked, out this fall!
Harte Darrigan is a trickster and he doesn't make a great first impression, but we love him! Harte isn't your typical catch, and throughout The Last Magician he fails to show that he can be trusted at all, even with his confusing feelings for leading lady Esta and the undeniable romantic tension they share.
Harte is an intriguing love interest and his loyalty to Esta will win you over. He's a schemer, flirtatious, a little selfish, but proves to be selfless in the end. We'll follow Harte and Esta to the ends of the earth in the rest of this series with The Devil's Thief, The Serpent's Curse, and The Shattered City. 
Aristotle and Dante are constantly helping each other grow into a better version of themselves, and their friendship is as pure as their romance is sweet. This may very well be the best example of the friends-to-lovers trope EVER!
Dante uses his quiet and vulnerable personality to teach Ari how to communicate his emotions to those that he wants to grow closer with, and Ari helps Dante become confident in his own skin. While these two are teaching each other how to be strong individuals, they're inevitably gaining the strength to confess their feelings for one another and be free. Find the conclusion to Ari and Dante's story in the sequel to this classic, Aristotle and Dante Dive Into the Waters of the World!
So This is Ever After is another amazing example of the friends-to-lovers trope, and it gives you friendship, humor, action, drama, and love! After becoming king against his better judgement, Arek is forced to find a spouse in just a few months, and how in the world can a good romance grow in such a short period of time? Arek tries his luck with those he's the closest to but crosses friend after friend off of his list of potential partners.
Arek's best friend, Matt, even pushes him towards other potential love interests, leading him to feel brutally friend-zoned. Still, somewhere along the way Arek's sloppy attempts at romance and Matt's attempts to help lead the two start to really enjoying the game they're playing with one another, and true feelings start to reveal themselves.