With so many exciting new and nostalgic fantasy novels to choose from, it can be hard to know where to start. Whether you're looking for a high fantasy epic with dragons or a dark contemporary fantasy with magical secret societies, pick your favorite fantasy show below and we'll give you the perfect book recommendation!
Read This Book Based on Your Favorite Fantasy Show
Rings of Power – The Dark is Rising Sequence by Susan Cooper
If you enjoyed revisiting Tolkien's classic fantasy world in Amazon Prime's Rings of Power, with its epic scope and thoughtful explorations of the origins of evil, The Dark is Rising by Susan Cooper is the classic fantasy book for you! It follows the awakening of young Will Stanton, who is actually an immortal plunged into a quest across time for six magical Signs – but betrayal awaits in unexpected places.
Merlin – Legendborn by Tracy Deonn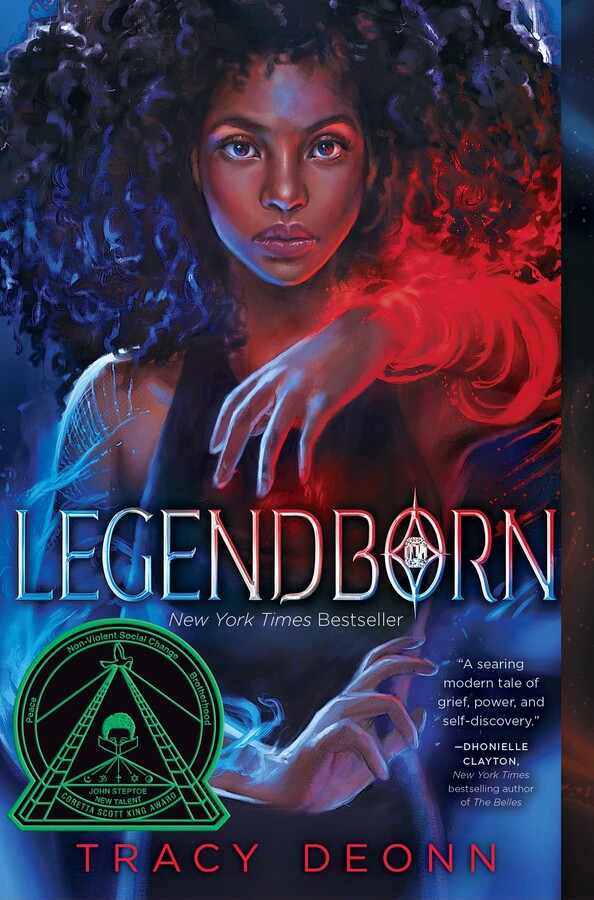 Fans of the 2010s BBC show Merlin will fall in love with the Arthuriana reimagining in Legendborn and its sequel, Bloodmarked by Tracy Deonn! In this contemporary fantasy, Bree is an exciting Black female lead given a full and complex emotional arc (justice for Merlin's Gwen) and Arthur and Merlin's layered relationship in the show mirrors several of the twists and turns in Nick and Sel's relationship as well.
House of the Dragon/Game of Thrones – Shatter the Sky by Rebecca Kim Wells
Dragons and strong female characters dominate this fantasy duology perfect for fans of the HBO's Game of Thrones universe (or perhaps the potential of Game of Thrones characters – we won't talk about GOT season 8). In Shatter the Sky Maren sets out to rescue her kidnapped girlfriend by stealing a dragon from the corrupt emperor, only to discover her own abilities and a larger destiny.
Warrior Nun – Vespertine by Margaret Rogerson
Both Ava, of the Netflix series Warrior Nun, and Artemisia, of Margaret Rogerson's thrilling dark fantasy adventure, train with a supernatural order of nuns and awaken powerful ancient spirits bound to a saint's relic. But in Vespertine, Artemisia makes a dangerous deal with the risen revenant to learn more of how to wield her new power that may require her to betray everything she believes in.
With a new series of Doctor Who coming soon to Disney+ (and the return of the Tenth Doctor!) this is the perfect time to start a time-hopping magical book series. Lisa Maxwell's The Last Magician is an exciting contemporary fantasy features a modern-day New York where magic is all but extinct, and the thief who must travel back in time to Old New York – a dangerous city ruled by ruthless gangs and secret societies – to save her future. Once you've read The Last Magician, be sure to check out the rest of this magical series: The Devil's Thief, The Serpent's Curse, and The Shattered City!
Fate: The Winx Saga – Tithe by Holly Black
If you loved the two seasons of Netflix's Fate: The Winx Saga (RIP), explore a darker realm of faerie in Tithe, the first book in New York Times bestseller Holly Black's Modern Faerie Tales series. Sixteen year old Kaye has traveled for years with her mother's rock band, but when she stumbles upon an injured faerie knight, she's pulled into the sinister magic of the fey courts and must work to save herself and protect her heart in the process.
Netflix's Locke & Key kept us guessing with a house filled with sinister secrets and haunting peeks into worlds beyond – and the mind-bending YA horror novel Delicious Monsters will send similar shivers up your spine as two Black teen girls ten years apart navigate the treacherous past of a mysterious mansion. As Brittney investigates the mansion in the present, Daisy's story runs parallel in the past, and they must face the most dangerous monsters of all: those that hide in plain sight. Add this book to your TBR now, it's out February 29th!
If you love heartfelt reimaginings like the ABC show Once Upon a Time where love conquers all, dive into F.T. Lukens' So This is Ever After, a fantasy novel about what happens after the chosen one wins the kingdom, but has to get married to keep it. When his attempts at wooing his friends go painfully and hilariously wrong, he discovers that love might have been in front of him all along.
There are more vampires in New Orleans than just The Originals' Mikaelson family on The CW – in Margie Fuston's Vampires, Hearts, & Other Dead Things, a girl takes a trip to New Orleans with her estranged best friend to find a vampire to save her dying father. When the vampire challenges her to first live life fully, she'll have to decide how much she trusts him to fulfill his end of the bargain.
Supernatural – Chain of Gold by Cassandra Clare
"Saving people, hunting things" may be "the family business" in the show Supernatural, but in Cassandra Clare's dangerous and romantic Chain of Gold, the first book in the Last Hours series, it's the Shadowhunters' business. Cordelia, James, and Lucie must hunt a paranormal killer in Edwardian London while keeping deadly secrets from one another.