Simon Teen Reveals Week is here!
What, you ask, is Simon Teen Reveals Week? It's that special time of year when we show you all the shiny new covers for books coming out in just a few seasons. From June 12 – 16, we're showing you all the new covers for our Spring 2024 young adult books. So get your Goodreads shelf ready because you're going to want to add all of these books to your TBR!
---
6/12: Cover Reveals Day 1
---
After her private school is rocked by a gruesome murder, a teen tries to find the real killer and clear her brother's name in this psychological thriller perfect for fans of The Taking of Jake Livingston and Ace of Spades.

Sunny Behre has four siblings, but only one is a murderer.

With the death of Sunny's mother, matriarch of the wealthy Behre family, Sunny's once picture-perfect life is thrown into turmoil. Her mother had groomed her to be the family's next leader, so Sunny is confused when the only instructions her mother leaves is a mysterious note: "Take care of Dom."

The problem is, her youngest brother, Dom, has always been a near-stranger to Sunny…and seemingly a dangerous one, if found guilty of his second-degree murder charge. Still, Sunny is determined to fulfill her mother's dying wish. But when a classmate is gruesomely murdered, and Sunny finds her brother with blood on his hands, her mother's simple request becomes a lot more complicated. Dom swears he's innocent, and although Sunny isn't sure she believes him, she takes it upon herself to look into the murder—made all the more urgent by the discovery of another body. And another.

As Sunny and Dom work together to track down the culprit, Sunny realizes her other siblings have their own dark secrets. Soon she may have to choose: preserve the family she's always loved or protect the brother she barely knows—and risk losing everything her mother worked so hard to build.
A skeptic and a supernatural being make a crossroads deal to achieve their own ends only to get more than they bargained for in this lively young adult romantic adventure from the New York Times bestselling author of Spell Bound and So This Is Ever After.

Seventeen-year-old Ellery is a non-believer in a region where people swear the supernatural is real. Sure, they've been stuck in a five-year winter, but there's got to be a scientific explanation. If goddesses were real, they wouldn't abandon their charges like this, leaving farmers like Ellery's family to scrape by.

Knox is a familiar from the Other World, a magical assistant sent to help humans who have made crossroads bargains. But it's been years since he heard from his queen, and Knox is getting nervous about what he might find once he returns home. When the crossroads demons come to collect Knox, he panics and runs. A chance encounter down an alley finds Ellery coming to Knox's rescue, successfully fending off his would-be abductors.

Ellery can't quite believe what they've seen. And they definitely don't believe the nonsense this unnervingly attractive guy spews about his paranormal origins. But Knox needs to make a deal with a human who can tether him to this realm, and Ellery needs to figure out how to stop this winter to help their family. Once their bargain is struck, there's no backing out, and the growing connection between the two might just change everything.
In this sequel to the New York Times bestselling, "pulse-pounding" (Publishers Weekly) A Door in the Dark, Ren's intellect and cunning are stretched to the limit in her quest to take down the system that stole her father's life.

Ren Monroe is a wolf among lions. After infiltrating one of the greatest Houses in Kathor through her successful bond with Theo Brood, she finds Theo's father is two steps ahead. He exiles Theo and isolates Ren, strategically working to break her unwelcome grasp on his son—and foiling Ren's first step to enacting the revenge she's been planning her whole life.

Ren might have more resources than she'd ever imagined growing up, but she'll still get nowhere without allies. Enter House Tin'Vori. Years ago, House Brood led an unprecedented raid to destroy a fellow House of Kathor. But a few siblings survived, and they haven't forgotten the horrors waged against their family. Quietly, they've plotted their own revenge, waiting for the right moment to strike. And Ren Monroe might be their best chance.

Like fire, the Tin'Vori siblings are as dangerous as they are useful, both gifted in rare magics. Ren must decide how to unleash them against House Brood without hurting Theo in the process. Her feelings for Theo are growing past the boundaries of their bond, and Ren finds herself balanced on a knife's edge, a breath away from immense power or utter ruin.
---
6/13: Cover Reveals Day 2
---
A girl with dangerous magic makes a risky bargain with a demon to be free of her monstrous power in this young adult fantasy perfect for fans of An Enchantment of Ravens and House of Salt and Sorrows.

Liska knows that magic is monstrous, and its practitioners are monsters. She has done everything possible to suppress her own magic, to disastrous consequences. Desperate to be free of it, Liska flees her small village and delves into the dangerous, demon-inhabited spirit-wood to steal a mythical fern flower. If she plucks it, she can use its one wish to banish her powers. Everyone who has sought the fern flower has fallen prey to unknown horrors, so when Liska is caught by the demon warden of the wood—called The Leszy—a bargain seems better than death: one year of servitude in exchange for the fern flower and its wish.

Whisked away to The Leszy's crumbling manor, Liska soon makes an unsettling discovery: she is not the first person to strike this bargain, and all her predecessors have mysteriously vanished. If Liska wants to survive the year and return home, she must unravel her taciturn host's spool of secrets and face the ghosts—figurative and literal—of his past. Because something wakes in the woods, something deadly and without mercy. It frightens even The Leszy…and cannot be defeated unless Liska embraces the monster she's always feared becoming.
Penny Dreadful meets The Gilded Wolves in this breathtaking finale to young adult historical fantasy Bones of Ruin trilogy!

For years, the elite secret society called the Enlightenment Committee has waited for the apocalyptic force known as Hiva to destroy the world as it has so many times before. What the Committee didn't know, however, was that Hiva wasn't an event—it was a person.

Iris Marlow. An African tightrope dancer with no memories of her past. A girl who cannot die.

At least, she couldn't die. Until her own friends discovered her one weakness and murdered her once and for all. The world-ending threat she posed should be gone too, but there's one more Hiva out there, and unlike Iris, this one has no love for humanity. In her absence, this Hiva has taken it upon himself to judge if humanity deserves to live.

But when it comes to Hivas, the judgment is always the same. The ending is always total destruction. And while Iris is dead, she's not gone—and after the betrayal that ended her life as Iris, she is now out for revenge.

The world's days are numbered. The Cataclysm has begun.
For fans of Talia Hibbert and Lynn Painter comes a funny and unflinchingly honest story about a teen who must come to terms with her disability and what it means for her identity, her love life, and her future.

Brynn Kwan is desperate for her high school persona to be real. That Brynn is head of the yearbook committee, the favorite for prom queen, and definitely not crumbling from a secret disability that's rapidly wearing her down. If no one knows the truth about her condition, Brynn doesn't have to worry about the pitying looks or accusations of being a faker that already destroyed her childhood friendships. She's even willing to let go of her four-year relationship with her first love, Oliver, rather than reveal that a necessary surgery was the reason she ignored his existence for the entire summer.

But after Brynn tries to break up a fight at a pep rally and winds up barred from all her clubs and senior prom, she has nothing left to prop up her illusion of being just like everyone else. During a week-long suspension from school, she realizes that she doesn't quite recognize the face in the mirror—and it's not because of her black eye from the fight. With a healthy sister who simply doesn't understand and a confused ex-boyfriend who won't just take a hint and go away like a normal human being, Brynn begins to wonder if it's possible to reinvent her world by being the person she thought no one wanted: herself.
---
6/14: Cover Reveals Day 3
---
A painfully average teen's life is upended by a magical apocalypse in this darkly atmospheric and sweepingly romantic novel perfect for fans of The Raven Boys, Buffy the Vampire Slayer, and The Rest of Us Just Live Here.

High school is hard enough to survive without an apocalypse to navigate.

Sid Spencer has always been the most normal girl in her abnormal hometown, a tourist trap built over one of the fault lines that seal magic away from the world. Meanwhile, all Sid has to deal with is hair-ruining humidity, painful awkwardness, being one of four Asians in town, and her friends dumping her when they start dating each other—just days after one of the most humiliating romantic rejections faced by anyone, ever, in all of history.

Then someone kills one of the Guardians who protect the seal. The earth rips open and unleashes the magic trapped inside. Monsters crawl from the ground, no one can enter or leave, and the man behind it all is roaming the streets with a gang of violent vigilantes. Suddenly, Sid's life becomes a lot less ordinary. When she finds out her missing brother is involved, she joins the remaining Guardians, desperate to find him and close the fault line for good.

Fighting through hordes of living corpses and uncontrollable growths of forest, Sid and a ragtag crew of would-be heroes are the only thing standing between their town and the end of the world as they know it. Between magic, murderers, and burgeoning crushes, Sid must survive being a perfectly normal girl caught in a perfectly abnormal apocalypse.

Only—how can someone so ordinary make it in such an extraordinary world?
Neve faces her vengeful cousin, the leader of the legions of hell, forcing her to decide where her loyalties truly lie in this thrilling sequel to Ravensong that's Buffy the Vampire Slayer meets Celtic mythology.

Neve and her sisters failed in protecting the mortal world against the legions of hell when the Veil they had spent their lives guarding split and the vengeful cousin they forgot ever existed, Aodh, managed to slip through. Dangerous and bitter, Aodh is on a mission to free the rest of their family still trapped behind the veil and set them loose on the mortal world.

Still injured from her last battle, Neve is not only working to track Aodh, but also trying to navigate painful memories that keep rising to the surface. Memories of her past lifetimes protecting the Gate…and of her first life, before she and her sisters scrubbed it from their minds. More questions arise when a new family member reveals themself, someone Neve and her sisters have been missing. Someone who might just be able to save them all.

Neve must face the sins of her past while navigating the dangers of the present. The more she remembers, the more it seems like everything she was raised to believe was a lie, and the fallout might decimate everything she has worked so hard to build in the present, including her relationship with Alexandria.

Caught between humanity and divinity, the past and the present, Neve must try to strike a balance between the warring forces both within and without, because if she doesn't, it might not just be her relationship at stake, but the whole world.
---
6/15: Cover Reveals Day 4
---
A teen girl searches for closure after her brother dies by suicide in this breathtaking novel from the author of Learning to Breathe and Facing the Sun.

Karmen is about to start her last year of high school, but it's only been six weeks since her brother, Julian, died by suicide. How is she supposed to focus on school when huge questions loom: Why is Julian gone? How could she have missed seeing his pain? Could she have helped him?

When a blowup at school gets Karmen sent home for a few weeks, life gets more complicated: things between her parents are tenser than ever, her best friend's acting like a stranger, and her search to understand why Julian died keeps coming up empty.

New friend Pru both baffles and comforts Karmen, and there might finally be something happening with her crush, Isaiah, but does she have time for either, or are they just more distractions? Will she ever understand Julian's struggle and tragedy? If not, can she love—and live—again?
All of Us Villains meets Kingdom of the Wicked in this action-packed fantasy following a teen determined to win the competition held by warring vampire and witch kingdoms, only to develop complicated feelings for the vampire she's supposed to hand over.

Blood is survival for seventeen-year-old Bly, who lives in the poverty-stricken human villages caught between enemy vampire and witch kingdoms. Most of the time, vampires and witches live in uneasy truce, buying human blood for their food and spells. But for two weeks a year, the ceasefire dissolves, and they hold the Revenant Games.

Any human can play in the games for either the witches or the vampires. Alongside life-changing riches, the witches will raise one person from the dead for whoever captures the highest-ranking vampire. In turn, the vampires offer immortality to whoever captures the most powerful witch. For most humans, the games are a ticket out of poverty. For Bly, it's a chance to get back her dead sister, Elise, and save the life of her dying best friend, Emerson.

Together, she and Emerson forge a dangerous plan to play both sides and win both prizes: resurrection for Elise and immortality for Emerson. But when the vampire they capture stirs a passion in Bly that she hasn't felt in a long time, she'll have to make a choice: her sister or the boy who's shown her there's more to life than just survival.
A teen's fight for suffrage turns into one of survival when her crew's Antarctic expedition ship gets stuck in the ice in this historical novel told in journal entries perfect for fans of Gary Paulsen and The Downstairs Girl.

November 1914.

Clara Ketterling-Dunbar is one of twenty-eight crew members of The Resolute—a ship meant for an Antarctic expedition now marooned on ice one hundred miles from the shore of the continent. An eighteen-year-old American, Clara has told the crew she's a twenty-one-year-old Canadian. Since the war broke out, sentiment toward Americans has not been the most favorable, and Clara will be underestimated enough simply for being a woman without also giving away just how young she is. Two members of the crew know her nationality, but no one knows the truth of her activities in England before The Resolute set sail.

She and her suffragist sisters in the Women's Social & Political Union were waging war of a different kind in London. They taught Clara to fight. And now, even marooned on the ice, she won't stop fighting for women's rights…or for survival. In the wilderness of Antarctica, Clara is determined to demonstrate what a woman is truly capable of—if the crew will let her.
---
6/16: Cover Reveals Day 5
---
In this stirring young adult romance from award-winning author Margarita Engle, love and conservation intertwine as two teens fight to protect wildlife and heal from their troubled pasts.

Ana and her mother have been living out of their car ever since her militant father became one of the FBI's most wanted. Leandro has struggled with debilitating anxiety since his family fled Cuba on a perilous raft.

One moonlit night, in a wilderness park in California, Ana and Leandro meet. Their connection is instant—a shared radiance that feels both scientific and magical. Then they discover they are not alone: a huge mountain lion stalks through the trees, one of many wild animals whose habitat has been threatened by humans.

Determined to make a difference, Ana and Leandro start a rewilding club at their school, working with scientists to build wildlife crossings that can help mountain lions find one another. If pumas can find their way to a better tomorrow, surely Ana and Leandro can too.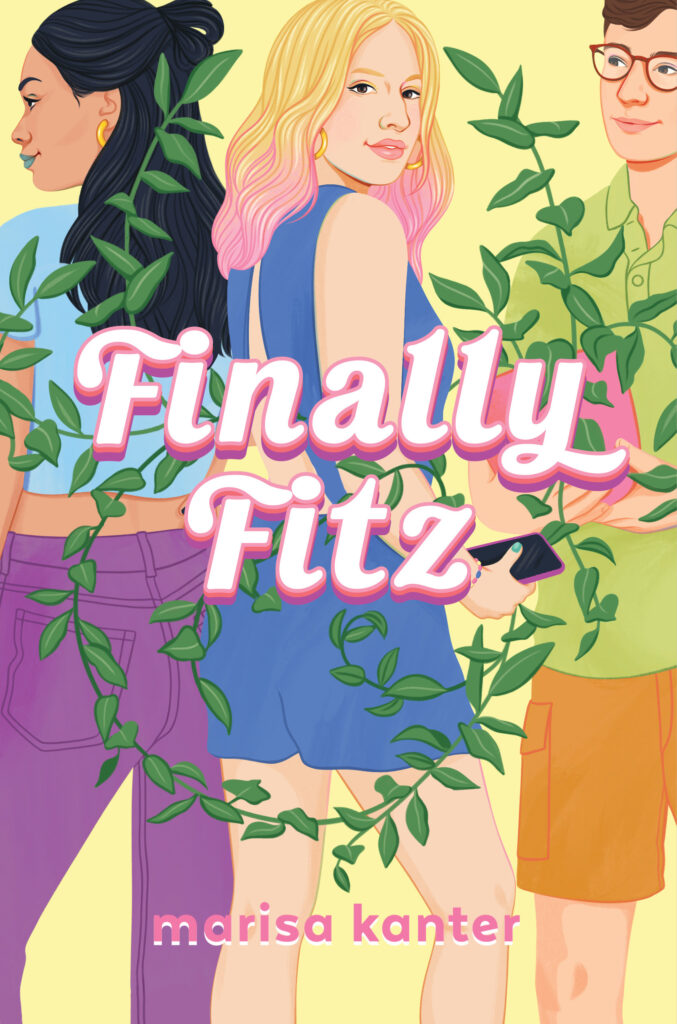 A bisexual teen girl tries to make her ex jealous by faking an Instagram romance that leads to surprisingly real feelings in this hijinks-filled rom-com perfect for fans of To All the Boys I've Loved Before and She Gets the Girl.

Ava "Fitz" Fitzgerald has worked hard to create the picture-perfect life she's always wanted. She spent her junior year transforming her passion for sustainable fashion and upcycling into a viral online platform, maintaining a 4.0 GPA, and spending every free second with her soon-to-graduate girlfriend, Danica. And this summer she plans to take it all to the next level by attending a prestigious summer fashion program in New York City and convincing Dani that they can survive a year of long distance.

But when Dani dumps her before classes even start, accusing Fitz of being more invested in growing her online persona than deepening their relationship, she's left not only heartbroken, but also creatively blocked.

Fitz will do anything to win Dani back, even if that means taking a break from the platform that she's worked so hard to build. But just as she decides to go all-in on a hiatus, a chance encounter reunites her with Levi Berkowitz, her childhood best friend that she hasn't seen since elementary school. Levi is struggling with heartbreak of his own, and this cosmic coincidence sparks a new use for her social media savvy. Fitz offers to help Levi craft a fake relationship online to make his person jealous…if in return he can pretend to be her boyfriend in front of Dani to make her jealous. If all goes according to plan, by the end of the summer they'll both be reunited with their perfect partners and get to rekindle their friendship in the process.

Sometimes even the most carefully designed plans can come apart at the seams, though. And when real history leads to not-so-fake feelings, Fitz will have to decide if she's finally willing to let go of what she thought was picture-perfect and choose what might actually be right for her.
---