Grab your hats and scarves and get ready to wear tights for the first time in months. The mornings are all chilly and you can see your breath and draw little pictures on foggy windows…because it's RED season, Swifties, and we have a book to go with EVERY SINGLE TRACK on Taylor Swift's Red Re-record! These books are a MUST for your cozy autumn in your feels (Taylor's Version).
Books to Read When You Listen to Red (Taylor's Version)
Dimple definitely never saw Rishi coming in When Dimple Met Rishi. When hopeless romantic Rishi introduces himself to Dimple with "Hello, Future Wife!", Dimple tosses her iced coffee at him and runs. Even though Dimple thought her parents had finally let go of their fixation on finding her the "Ideal Indian Husband", they were really setting her up yet again. But what neither Dimple nor Rishi ever saw coming after this inauspicious start is an incredible bond.
2. "Red" – City of Bones by Cassandra Clare
For the song about the whirlwind of highs and lows in a passionate relationship, we have the series that started a whole saga of love stories and adventures: Cassandra Clare's City of Bones. We love the Shadowhunters books for their stunning twists, the epic world, and, most of all, the palpable bonds between the characters that keep our hearts racing and our pages turning!
3. "Treacherous" – The Witch Haven by Sasha Peyton Smith
"Treacherous" is about attractions that are as undeniable as they are dangerous. In The Witch Haven, Sasha Peyton Smith's protagonist Frances would surely understand this song as she finds herself drawn to Finn, a boy with magic and therefore a sworn enemy of Haxahaven, the witch school that saved her from her life of loneliness and condemnation. As her feelings for Finn grows, and her hunger for the answers about her brother's disappearance, so does the threat to her school and her fellow witches.
4. "I Knew You Were Trouble" – Blood Like Magic by Liselle Sambury
In Blood Like Magic, Luc would say he knew Voya was trouble when she walked in. Luc and Voya first met when he tries to block her from entering a NuGene info session, but Voya finds a way not only into that info session, but also into Luc's hard-won heart. Little does he know, Voya has a terrible task at hand. In order to save her family's magic, Voya must kill her first love—and NuGene's matchmaking program says that Luc and Voya are soulmates.
5. "All Too Well" – Chasing Lucky by Jenn Bennett
For this fan-favorite about the way love affairs linger, we have Chasing Lucky. Josie and Lucky were once best friends—before Josie left town, before Lucky never wrote back, before everything fell apart. Now Josie is back in town and Lucky makes it clear that he wants nothing to do with her. But when Josie accidentally lands herself in some big-time trouble, Lucky unexpectedly takes the blame. Could it be that Lucky remembers how everything was before…all too well?
Nima Kumara-Clark isn't quite 22, but in Kings, Queens, and In-Betweens she discovers what it means to be happy, free, confused, and lonely in the best way. Perpetually awkward, in love with her straight girlfriend, and trying to move past her mother's unexpected departure, Nina is barely coping day-to-day, until she finds herself suddenly immersed in the drag scene at the other side of town. Nima becomes closer to a self she never knew she could be—one that can confidently express and accept love.
7. "I Almost Do" – Our Violent Ends by Chloe Gong
We could probably write a whole article about ALL the Taylor Swift songs that feel like they were written for the angst of Chloe Gong's These Violent Delights, but surely the song match for Our Violent Ends is Taylor's "I Almost Do." Although Roma is convinced that Juliette has irrevocably betrayed him for the last time, Juliette lives every day in agony as she hides her true feelings (and a number of other secrets) from Roma in order to protect him. I'm sure she hopes that he knows that every time she doesn't reach out… she almost does.
8. "We Are Never Ever Getting Back Together" – Wings of Shadow by Nicki Pau Preto
Our favorite snarky break-up bop is the perfect match to Nicki Pau Preto's Wings of Shadow, the finale to the epic trilogy about a pair of orphaned sisters who find themselves helming opposite sides in a world-shattering war of phoenix riders. They are never ever getting back together, but will they survive being apart?
9. "Stay Stay Stay" – Today Tonight Tomorrow by Rachel Lynn Solomon
The cutest song has to go with the cutest love story. Rowan and Neil in Today Tonight Tomorrow have been academic rivals for years, but it's the last night of high school and for the annual 24-hour scavenger hunt, the pair finds themselves on the same side for the first time. Rowan has never been able to stand Neil, but at the end of this day, she might just find she may not have exactly been hating him for quite some time…
10. "The Last Time" – Love & Olives by Jenna Evans Welch
In "The Last Time," Taylor begs to be put first, and Gary Lightbody duets an apologetic farewell response. Love & Olives' Liv Varanakis would understand Taylor's pleas, as her greatest heartbreak was when her father walked out on her family. But her father would empathize with Gary's side as well. After Liv receives a postcard from her father asking her to help him on a documentary about Atlantis, she finds herself in beautiful Santorini with more questions than ever. Will she get the answers she's looking for? Or is their father-daughter relationship as lost as the city of Atlantis?
The special magic of a first love affair is captured in "Holy Ground," and it's also captured in Jenny Han's To All the Boys series. Always and Forever, Lara Jean is truly an ode to first loves, and how while life is always going to move forward and change is inevitable, there are bonds that you will cherish forever.
12. "Sad Beautiful Tragic" – When We Were Them by Laura Taylor Namey
When they were fifteen, Willa, Luz, and Britton's friendship was everything. When they were sixteen, they stood by each other no matter what. When they were seventeen, they went through the worst. And when they were eighteen, Willa ruined it all. Is there anything more "Sad Beautiful Tragic" than a friendship break-up? And Laura Taylor Namey brings this one to life so gorgeously and gut-wrenchingly in When We Were Them.
13. "The Lucky One" – Shine by Jessica Jung
An aspiring celebrity wondering about her place in this industry and thinking about the idols that came before her? Yeah, that's giving Shine. K-Pop superstar Jessica Jung's YA debut is about Rachel Kim, a DB Entertainment recruit that is hoping to debut as a K-pop star, but runs into the trouble of falling for DB golden boy Jason Lee despite one of the ironclad rules of DB Entertainment: no dating.
14. "Everything Has Changed" – Emergency Contact by Mary H.K. Choi
Sometimes you meet someone and you just know everything is about to change. Penny and Sam's first meeting in Emergency Contact is like that, except it's less of a meet-cute and more of a collision of unbearable awkwardness. But the two exchange numbers, and soon they become digitally inseparable, sharing their deepest anxieties and secret dreams and opening themselves up to each other in ways they never thought possible.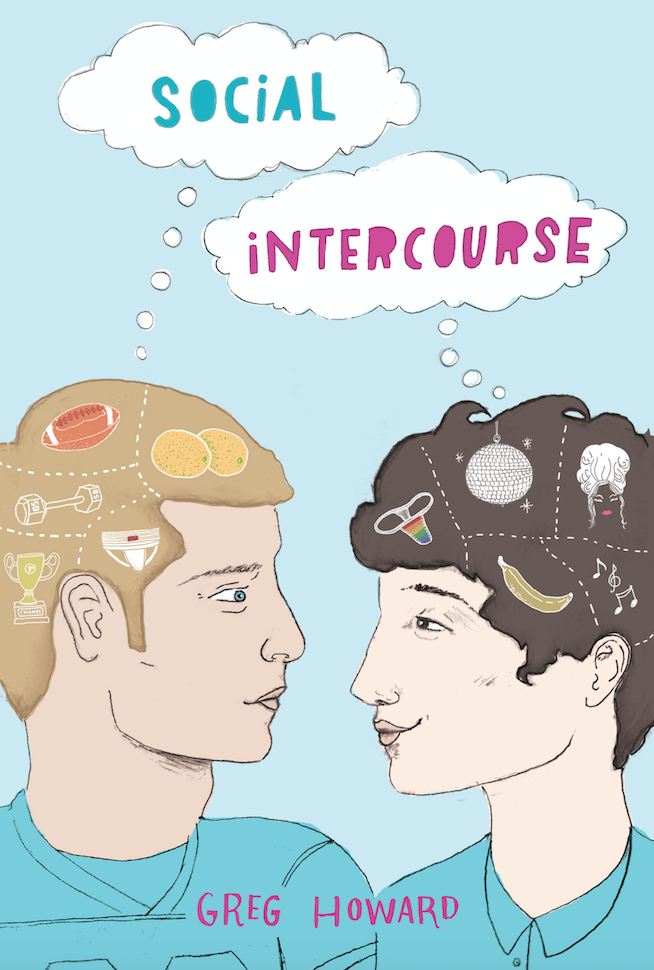 This song about unforgettable nights of dancing, letting go of your worries, and potentially falling in love is the perfect pair for Social Intercourse, the bright laugh-out-loud novel about a gay teen and a golden boy football player from South Carolina teaming up to throw their conservative hometown's first Rainbow Prom. Hearts will be broken, new romance will bloom, but nothing will go down the way Beck and Jax have planned.
For committing a terrible magical sin, Tamsin was banished from her witch community and cursed with the inability to love. Wren, who hides her own powerful magic, has been tied to her hometown for her whole life as the only caretaker to her ailing father. But when a terrible plague strikes the land and Wren's father is affected, Wren strikes a bargain: she will give Tamsin her love for her father for Tamsin's help. But in Sweet & Bitter Magic what begins as a dangerous bargain may end up as a beautiful new beginning.
17. "The Moment I Knew" – Starry Eyes by Jenn Bennett
Lennon may not have missed Zorie's birthday in Starry Eyes, but in this best-friends-turned-almost-lovers-turned-best-enemies premise, Lennon stood Zorie up for homecoming right after they both decided to take the leap romantically, and they haven't spoken since. That all changes when a camping trip goes south and they find themselves stranded in the wilderness. Alone. Together.
18. "Come Back … Be Here" – Permanent Record by Mary H.K. Choi
Dive into the agonizing feels of a long distance relationship with Permanent Record, the story of college dropout Pablo Rind and pop juggernaut Leanne Smart who meet at 5:00 AM at a bodega and find an unexpectedly strong connection, which then must span distance, time zones, and social media platforms.
In Together We Caught Fire, Lane Jamison has always had a crush on Grey McIntyre, but Grey has a girlfriend, her friend Sadie. To make matters more complicated, her father introduces her to his new fiancée, Grey's mother. In the face of all this mess, Lane decides to take a page out of Taylor's book and steps away from a taken man by befriending Connor, Sadie's brother.
20. "State of Grace" – For All Time by Shanna Miles
Taylor's album opener about epic, life-changing love takes new (read: sadder) shape in the acoustic version. Shanna Miles' epic love story, For All Time, is the perfect fit. This is a vivid, utterly romantic debut novel about two teens who relive their tragic love story over and over until they uncover what they must do to change their fate.
21. "Ronan" – Five Feet Apart by Rachael Lippincott and Mikki Daughtry
We paired this song with Five Feet Apart because they both tell stories about holding onto blind hope in the face of the tragic reality of health conditions that you simply cannot change, and young people who must face their mortality far too young. Rachael Lippincott's #1 New York Times bestseller is about two teens who fall in love with just one major complication—they can't get within a few feet of each other without risking their lives.
Belly has always wished Conrad was a better man. She wishes that he was different, so they could have had a different ending—and she also wishes that she didn't feel this way. Because she has Jeremiah now, Conrad's brother, and she's almost positive Jeremiah is her soulmate. But in Jenny Han's We'll Always Have Summer, the conclusion to her Summer I Turned Pretty Trilogy, Jeremiah makes a big mistake, and Belly must face the reality that the Fisher brothers are both imperfect—but she has feelings for them both, and she has to break one of their hearts.
For the song where Taylor and Phoebe Bridgers wonder about the viciousness and transience of people's perception of you, we have Kind of Sort of Fine where two teens from opposite social spheres inadvertently rehabilitate and bolster each other's reputation. It seems like they're both getting what they want—except what happens when who you've become isn't who you really are?
The Jasmine Project shares a premise with "Babe"—Jasmine Yap's life is turned upside down when she catches her long-time boyfriend Paul cheating. But her family is sure that they can help, so they decide to throw a graduation party for Jasmine as a way for her to meet the most eligible bachelors in Orlando. There's no pressure for Jasmine to choose anyone. Jasmine's family just wants to show her how she should be treated. But soon enough the family begins fighting for their favorites, bachelors go rogue… and then Paul shows up.
25. "Message in a Bottle" – What I Like About You by Marisa Kanter
There's nothing more exciting than the beginning of a love story, even if like in "Message in a Bottle" the object of your affection is far away. Sometimes it's even more exciting that way; you can hold onto that hope forever. Halle would agree. In What I Like About You, Halle has the online persona of Kels, and Kels has a best friendship/flirtationship with Nash. Kels is much cooler than Halle, and Halle never expects Kels' life to mix with hers. But then Halle moves to her Gramps' small town, and Halle finds herself face-to-face with real, not-behind-a-screen Nash.
26. "I Bet You Think About Me" – Of Princes and Promises by Sandhya Menon
Making an ex regret they ever left you is the name of Caterina LaValle's game in Of Princes and Promises, who is determined to show that she's still the queen of St. Rosetta's Academy after her ex-boyfriend is caught cheating on her. Caterina makes over adorkable Rahul Chopra, who has always been in love with her, with a magical hair gel with the power to alter the wearer into whatever his heart desires. But what happens after Rahul contorts himself to be a part of Caterina's upper crust circles? And what happens when they like Rahul more than Caterina herself?
27. "Forever Winter" – When We Were Infinite by Kelly Loy Gilbert
"Forever Winter" is a song straight from Beth's heart in When We Were Infinite. Beth would have never guessed everything that Jason was going through, but after she witnesses a private act of violence in Jason's home, Beth and her friends make a pact to do whatever it takes to protect Jason. But when even their fierce loyalty isn't enough to stop Jason from making a life-altering choice, Beth must decide how far she's willing to go for him—and how much of herself she's willing to give up.
28. "Run" – Starling by Isabel Strychacz
For "Run" we chose, Starling by Isabel Strychacz, a lushly romantic book about two teen sisters who fight to protect a mysterious stranger who literally fell from the stars into their backyard. With the whole town against them, Delta and her sister go to incredible lengths to protect their mystical visitor—especially as Delta's growing feelings for Starling could prove the greatest risk of all.
29. "The Very First Night" – A Pho Love Story by Loan Le
Speaking of secret relationships that seem like they're built to fall apart but spark SO much joy… A Pho Love Story is a frothy and smart romantic comedy in which two Vietnamese American teens fall in love and must navigate their newfound relationship amid their families' age-old feud about their competing, neighboring pho restaurants.
30. "All Too Well (10 minute version)" – One Great Lie by Deb Caletti
Taylor's 10-minute version of "All Too Well" sheds new light on an unforgettable relationship, ruminating on the darker parts of their story and illustrating how some power dynamics are impossible to get around. These elements of the song are powerfully captured in One Great Lie. When Charlotte wins a scholarship to a writing workshop in Venice with the charismatic Luca Bruni, it's a dream come true. But as Luca's behavior becomes increasingly unnerving, Charlotte begins to unearth the long-lost work of previous workshop member Isabella, and other things begin to rise too, secrets about the past…and secrets about the present.