Reading a book written in verse is an incredibly powerful experience. It takes reading to a whole other level, and we're kind of obsessed with it. Check out these must-read books in verse!
19 Books in Verse You Need to Read ASAP
1. Spin by Rebecca Caprara
The Song of Achilles and Circe get a sapphic, young adult twist in this gorgeously lush, feminist retelling of the myth of Arachne spun in moving verse.
This gorgeously romantic contemporary novel-in-verse from award-winning author Margarita Engle tells the inspiring love story of two teens fighting for climate action and human rights.
Acclaimed author Margarita Engle tells a painful, poignant story of love in a time of hunger inspired by her own family's struggles during a dark period in Cuba's history.
This stunning book in verse tells the story of Nicaraguan poet and folk hero, Rúben Darío. Author Margarita Engle, who was named after one of his poems, writes the beautiful story of how Rúben Darío lead the vibrant new literary movement called Modernismo.
This beautiful book in verse is told from two perspectives as we see how sisters, Rowena and Ariana have and haven't dealt with the death of their mother. Lyrical and full of imagery this novel explores aspects of the grieving process that aren't normally voiced.
New York Times bestselling author Ellen Hopkins tackles gun violence and white supremacy in this compelling and complex novel.
This fiercely stunning novel takes place in sixty potent seconds—the time it takes Will to decide whether or not he's going to murder the guy who killed his brother.
8. Jazz Owls by Margarita Engle
In soaring images and powerful poems, this is the breathtaking story of what became known as the Zoot Suit Riots as only Margarita Engle, the Young People's Poet Laureate, could tell it.
Amid the brutality of Auschwitz during the Holocaust, a forbidden gift helps two teenage girls find hope, friendship, and the will to live in this novel in verse that's based on a true story.
10. Somewhere Among by Annie Donwerth-Chikamatsy
A beautiful and haunting novel about an American-Japanese girl struggling with the loneliness of being caught between two worlds when the tragedy of 9/11 strikes an ocean away.
A novel in verse told from the perspectives of two girls—one of whom kisses the other's boyfriend.
12. Crank by Ellen Hopkins
Crank is a story about a monster. Not a dragon or a mythological beast, but a very real, very destructive monster—crystal meth—that takes hold of seventeen-year-old Kristina Snow and transforms her into her reckless alter-ego Bree.
In this poetic memoir, acclaimed author Margarita Engle tells of growing up as a child of two cultures during the Cold War.
14. Glimpse by Carol Lynch Williams
When her older sister, Lizzie, becomes an elective mute and is institutionalized after trying to kill herself, twelve-year-old Hope's life is turned upside down.
Award-winning author Sonya Sones brings us the story of Ruby's developing relationship with her estranged movie star father, vividly recounted in stunning free verse.
Ava can't see him or touch him, unless she's dreaming. She can't hear his voice, except for the faint whispers in her mind. Most would think she's crazy, but she knows he's here.
In this powerful companion to her award-winning memoir Enchanted Air, Young People's Poet Laureate Margarita Engle recounts her teenage years during the turbulent 1960s.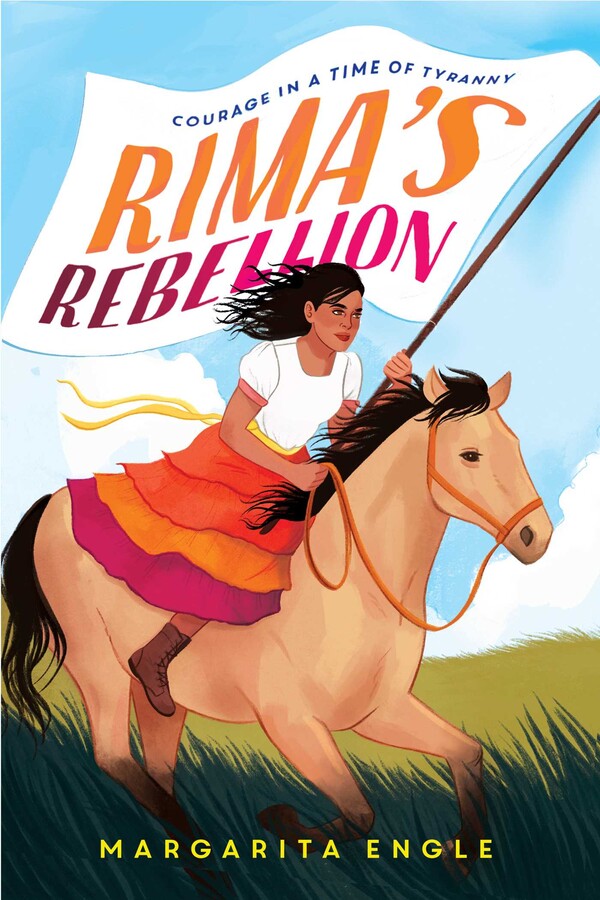 An inspiring coming-of-age story from award-winning author Margarita Engle about a girl falling in love for the first time while finding the courage to protest for women's right to vote in 1920s Cuba.
Perfect for fans of Deb Caletti, this poignant coming-of-age novel in verse follows a teen girl who connects with the women of her maternal line through their journals and comes to better understand her fraught relationship with her mother.